>

Gemini Cryptocurrency Exchange Review
Gemini Cryptocurrency Exchange Review
Gemini is one of the most well-known cryptocurrency exchanges on the market, mainly due to the fact that it is owned and operated by the Winklevoss Twins, who became household names due their depictions in The Social Network, which is a movie about the tumultuous early years of Facebook. The Winklevoss Twins announced that they had purchased 1% of all of the Bitcoin in circulation back in 2013, and it was soon after that they announced their intentions to build and launch a Bitcoin ETF product. While the U.S. Securities and Exchange Commission is still holding up the launch of a Bitcoin ETF, the Winklevoss Twins were able to launch their own Bitcoin exchange, known as Gemini, back in 2014. The most noteworthy aspect of this exchange is that the Winklevoss Twins have made sure to create a close relationship with regulators and go above and beyond when it comes to making sure that they're able to build a trusted, reliable brand that can last for many years to come.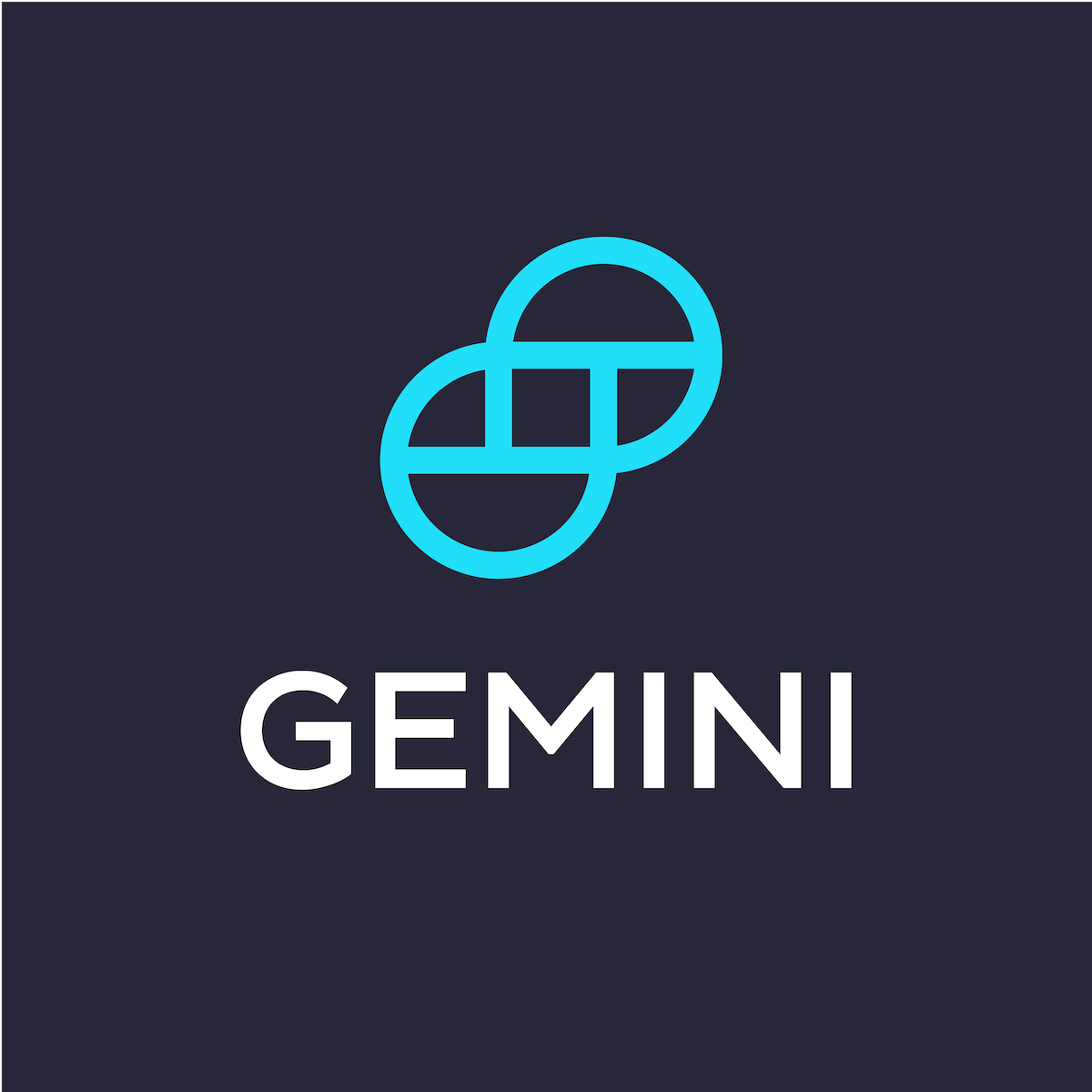 One of the most trusted cryptocurrency exchanges
The only crypto exchange founded by the famous Winklevoss twins
Lightning-fast deposits in the USA
Working hard with regulators in the US for widespread cryptocurrency adoption
Funding Methods
Bank Account & Wire Transfer
General Overview
Customers in the United States can make instant deposits from their bank accounts

This Exchange has never faced a serious security incident

Gemini works closely with regulators and has trusted individuals behind it

This exchange has very a reasonable fee structure
Strict identity verification process before users can trade

Despite its brand recognition, the trading volumes on this exchange are still relatively low
Gemini Trading Volumes
Gemini
Volume (24H)
$139,026,252.03
Volume (7D)
$9,684,295,996.58
Date Launched
October 1, 2015
Data provided by

Gemini Exchange Funding Methods
| | | | |
| --- | --- | --- | --- |
| Bank Account (ACH) | Yes | Yes | Instant |
| Credit Card | No | No | n/a |
| Debit Card | No | No | n/a |
| Wire Transfer | Yes | Yes | 1 business days |
Sign-up Process
The sign-up process on the Gemini cryptocurrency exchange will look very familiar to anyone who has signed up for an exchange that complies with Know Your Customer and anti money-laundering regulations in the past. When you first click the "Register" button on the Gemini homepage, you will be presented with a page that asks for some basic information: your full name, email address, and a password. If you are representing an institution, you can click that option and be taken to an alternative registration process.
After filling out this initial form, you will receive an email with an activation code. Once your email address has been confirmed, you will then be asked to provide some additional information:
Date of birth
Occupation/profession
Social security number
Address
You will also have the option to connect your bank account to your Gemini account at this time; however, this part of the sign-up process can be deferred until later if you so desire.
The last step in the process of signing up for a Gemini account is to verify your identity. During this process you will need to share the typical documents such as a driver's license and a utility bill that has your address on it.
What You Can Buy
When Gemini first launched, Bitcoin was the only crypto asset available for trade on the platform. Ethereum was eventually added as a second supported cryptocurrency network, and there are now a total of 27 trading pairs on the exchange, including the following digital assets:
Bitcoin
Ethereum
Chainlink
Basic Attention Token
Orchid
Litecoin
Bitcoin Cash
Zcash
Dai
Gemini Supported Applications
Gemini customers are able to access the trading platform from any of their devices. This includes access to the website via a laptop or desktop computer running any operating system. There is also a standalone mobile application available for both Android and iOS devices.
Fees
The fees paid for trading cryptocurrency on Gemini will depend on what version of the platform you're interacting with on your device. For example, fees paid for trades made via the mobile application, which has a much simpler interface, are higher than trades made via the full trading platform accessed via a computer. For those of you who have used Coinbase in the past, this setup is similar to the cost differences between using Coinbase and Coinbase Pro. Whether you're using the simple interface or the full trading platform, fees are structured on a tier basis, which is rather common in the crypto exchange industry.
For trades using the advanced platform, fees start at 0.35% and go all the way down to 0% depending on how much you are trading on a monthly basis.
Frequently Asked Questions
---
The base Gemini platform does not offer any sort of non-custodial cold storage for its users. While customer funds are indeed held in an offline environment, the reality is the user does not have full control over their own assets. For true cold storage, an individual should be taking control over their own private keys.
That said, there is nothing stopping you from simply using Gemini as a trading platform and then moving your funds to your own cold storage device, such as a Trezor or Ledger wallet, when you are not actively trading. In fact, it is recommended you take control over your own private keys via this sort of cold storage solution whenever possible (at least if you feel comfortable enough to take on this responsibility).
It should be noted that Gemini also offers a custody solution for high net worth individuals and institutions; however, this service is not available to the average Jane and Joe.
---
The fees on Gemini tend to be at least a couple dozen basis points higher than what is available on Binance, and that's not even accounting for the additional discounts Binance traders can gain access to via the BNB token. Having said that, it is imminent to note that there are more factors to consider than just the cost of trading. For example, experts in the cryptocurrency space would definitely agree that Binance operates in a much more legal gray area than Gemini.
The identity verification requirements on Binance are extremely low when compared to Gemini, and Binance has also faced a number of different security incidents over the years. Of course, Binance also offers a ridiculously much larger number of trading pairs than Gemini, so each individual trader will need to consider their own situation and decide which platform best fits their specific needs.
---
No, Mark Zuckerberg does not own Gemini. The confusion over who owns Gemini may stem from the fact that the exchange was created by the Winklevoss Twins. They successfully sued Zuckerberg in the early days of Facebook, as the twins felt Zuckerberg had stolen their idea for a similar website. It should be noted that Zuckerberg is now working on his own digital currency project, known as Libra; however, this digital currency would work very different from how Bitcoin operates.
---
Yes, Gemini is available in all 50 states. The exchange works closely with the New York Department of Financial Services, so even the people of New York are able to access the exchange, which is known for its strict cryptocurrency regulations.
Gemini is also available in Hawaii, which is notoriously restrictive when it comes to cryptocurrency exchanges.
---
The vast majority of Gemini user funds are held in cold storage, which means they are not connected to the internet at all. This helps protect against potential attacks from hackers around the world.
Gemini uses hardware security modules (HSMs) to generate the private keys associated with their users' cryptocurrency holdings, and the funds never leave the devices on which they're originally generated.
A multi-signature address scheme is also used by Gemini to avoid single points of failure in their storage process. The HSMs that store user funds are geographically distributed all over the world.
---
Yes, Gemini is available in the United Kingdom; however, there are no trading pairs that include the British pound on the platform.
---
The Gemini dollar is a regulated stablecoin issued by Gemini on the Ethereum blockchain as an ERC-20 token. This stablecoin allows users to use the US dollar in various smart contracts and decentralized applications on Ethereum. Additionally, it allows users to send payments denominated in the US dollar in a manner similar to how Ether is sent on the Ethereum network.
GUSD is technically issued by Gemini Trust Company, LLC, which is a regulated and audited New York trust company. This means that the stablecoin does not come with the same opaqueness as some of the other stablecoin offerings on the market. That said, it should be remembered that stablecoins are very different from cryptocurrencies like Bitcoin. With Bitcoin there is no counterparty risk on the storage and sending of funds whatsoever, while a stablecoin like GUSD still has a centralized point of failure in the form of the issuer, which can also be an easy target for regulators.
---
Gemini does not offer interest-bearing accounts; however, the company behind the exchange platform takes care of custody for the well-known Bitcoin interest accounts at BlockFi.
---
Overall, Gemini is a quality exchange that can offer value to a wide variety of cryptocurrency users, from those living below the poverty line to regulated financial institutions.
The ability to instantly send money from your bank account to the exchange is extremely valuable for those who want to be able to buy Bitcoin in a hurry when they see an opportunity. The high level of focus on regulation and security can help any customer rest easy knowing that their funds will be safe. While the level of liquidity on Gemini is not as high as many other exchanges, there is still plenty of activity for the average trader to get their trades in at acceptable price levels.