>

Buy Crypto in the United Kingdom: Best UK Bitcoin Exchanges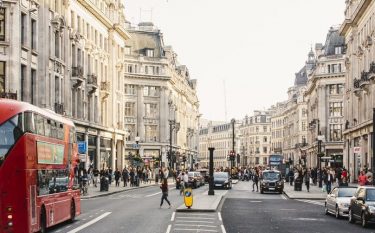 Buy Crypto in the United Kingdom: Best UK Bitcoin Exchanges
The United Kingdom has taken to Bitcoin and cryptocurrency in a big way. Representing one of the biggest markets for crypto in the world, it's easy to purchase and trade cryptocurrencies in the UK. Trading and owning cryptocurrencies in Britain is legal, and while the likes of Bitcoin aren't classed as legal tender, crypto-exchanges are regulated under the Financial Conduct Authority (FCA). This means they have to comply with AML and KYC regulations, something which helps to ensure their reliability and stability.
Aside from classifying cryptocurrencies as 'property', the UK hasn't introduced any wider or specific cryptocurrency legislation, so the market for crypto in the country is fairly liberal at the moment. However, traders should remember that they are liable for capital gains tax on crypto-trading profits over £12,000. Likewise, income tax is chargeable if you happen to be paid for goods and services in cryptocurrency.
Best UK Bitcoin Exchanges
User-friendly
Great customer service
Low services fees
Diverse and consistently updated choice of coins
Funding Methods
Debit & Credit Bank, Bank Transfer
Trustworthy exchange
Supports many different funding options
Accepts users from across the globe
High trading volume
Funding Methods
Wire Transfer, ACH
Long-running cryptocurrency exchange
Withdrawals to credit cards
Robust mobile app
Staking available on site
Funding Methods
Bank Transfer, Credit Card
What's the Best Way to Get Cryptocurrency in the United Kingdom?
The best way of obtaining cryptocurrency in the UK is to buy some on a crypto-exchange. There are numerous good exchanges based in Britain, such as CEX.io and eToro. Most of the best international exchanges – such as Coinbase, Kraken, and Binance – are also open to UK-based customers.
One small thing to remember as a beginner is that some exchanges, such as CEX.io, let you purchase cryptocurrencies directly from the exchange using a debit or credit card. Others, however, first require you to deposit GBP (or some other fiat currency) into your account with the exchange, and then you have to trade GBP for a desired cryptocurrency, such as Bitcoin.
Is it Easy to Buy Crypto in the United Kingdom?
Buying cryptocurrency in the United Kingdom is easy. When signing up for an account with an exchange, you will have to prove your identity by completing various KYC and AML processes, which usually require the uploading of ID document scans.
However, once this has been completed, it is easy to begin buying and trading crypto. If you're trading and holding fairly large sums of crypto, one extra thing you might want to consider is the purchase of a hardware wallet. Alternatively, you can download a Desktop or mobile wallet.
To help you find a wallet of your choice, check out the Best Cryptocurrency Wallets in 2020
Is It Legal to Buy Cryptocurrency in the UK?
Yes, buying, trading and owning cryptocurrency is entirely legal in the UK. Cryptocurrencies are recognised as property (i.e. as assets) in Britain. As such, you will have to pay capital gains tax on crypto-trading profits above £12,000. If you're a basic-rate income taxpayer (i.e. if you earn income between £12,501 and £50,000), you'll pay 10% on any capital gains profit beyond £12,000. If you're a higher rate income taxpayer (i.e. between £50,001 and £150,000), you'll pay 20%.
Can I Buy Bitcoin and Ethereum in the UK?
Yes, the vast majority of major cryptocurrencies are available for trading on UK-based cryptocurrency exchanges. Likewise, a varied range of international exchanges are accessible to UK-based customers (e.g. Coinbase, Kraken, Binance, Bittrex, Poloniex, Coinmama, Bitpanda), so any cryptos you can't find on British platforms can usually be found legally elsewhere.
Also, according to Coin ATM Radar, the UK does have a handful of Bitcoin ATMs. So if you happen to live in Manchester, Leeds, Liverpool and Glasgow, you may be able to directly purchase Bitcoin and other cryptocurrencies.
What's the Cheapest Way to Buy Cryptocurrency?
The cheapest way of buying cryptocurrency in the UK is to use a crypto-exchange. Specifically, you need to find an exchange with low purchase and/or trading fees. In the UK, CEX.io charges £0 to deposit GBP into your CEX account via a bank transfer, which can then be used to buy crypto. It also boasts a competitively low card purchase fee of 2.99%, if you want to buy crypto directly (rather than trade GBP for a cryptocurrency). Meanwhile, international exchanges such as Binance and Bitpanda offer low fees when it comes to buying crypto with a bank card.
Can I Sell My Bitcoin in the UK?
Yes, just as you can buy Bitcoin in the UK, you can also sell and trade it. If you already have Bitcoin on another exchange or in a wallet, you can transfer it to your new crypto-exchange, and then sell it for another cryptocurrency or for fiat. Similarly, if you have bought Bitcoin on your current crypto-exchange, you can just as easily trade it for another cryptocurrency or for a fiat currency.
Bear in mind that if you are selling your Bitcoin (or any other cryptocurrency) for fiat currency,  you will be liable to pay capital gains tax when profiting by more than £12,000.
Will My Bank Let Me Purchase Bitcoin with My Credit Card?
Depending on who you bank with in the UK, you may not be able to use your credit card to purchase Bitcoin and other cryptocurrencies. In February 2018, Lloyds Banking Group – which covers Lloyds Bank, Halifax, Bank of Scotland, and MBNA – banned their customers from using credit cards to purchase crypto. Similarly, Virgin Money and Capital One also ban customers from using credit cards to purchase crypto.
However, other major banks – including Barclays, HSBC, and NatWest – do still let customers buy crypto using credit cards. Also, all banks – including Lloyds, Capital One and Virgin Money – do let you purchase crypto using your debit card.