>

KeepKey Review: The Best Alternative to Trezor and Ledger?
Hardware wallet that offers a high degree of security for its users
Simple integration with ShapeShift, a non-custodial crypto exchange
Can be used with any desktop, laptop, or Android device
Large screen helps with UI
Platforms Supported
Windows, MacOS, Linux, Android
General Overview
The hardware component of this wallet makes it much more secure than software-only options

ShapeShift acquired KeepKey for integration with their non-custodial exchange

This device tends to be sold at a lower price than TREZOR and Ledger devices
The number of crypto assets supported is somewhat limited

Does not work with iPhones

No Bluetooth support
KeepKey at a Glance
Platforms supported:
Windows, MacOS, Linux, Android
Cryptocurrencies supported:
Over 1,000 cryptocurrencies
Mobile support:
Yes (Android only)
Best Features
The best feature of the KeepKey is the simple fact that it is a hardware wallet. Hardware wallets offer a superior level of security because they do not allow your private keys to touch your internet-connected device that you use to send cryptocurrency payments. The transaction signing process is done on this separate, offline device, which offers protection from remote attackers who are trying to access your crypto keys.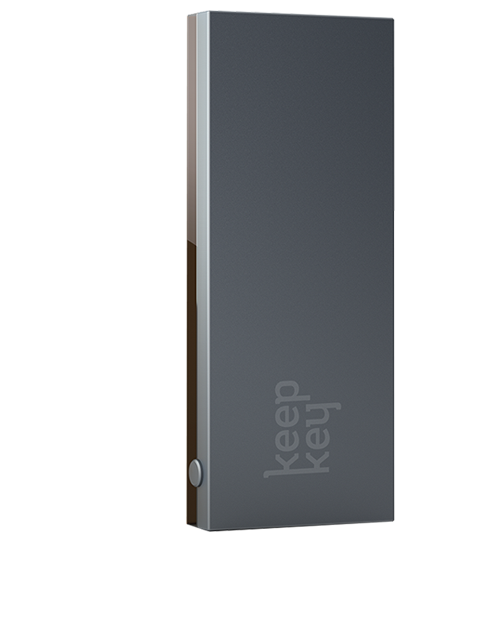 ShapeShift, which is the company that acquired KeepKey back in 2015, also runs a non-custodial exchange. The combination of a KeepKey hardware wallet with the non-custodial ShapeShift exchange is a great option for traders who want to achieve a greater level of security with their funds.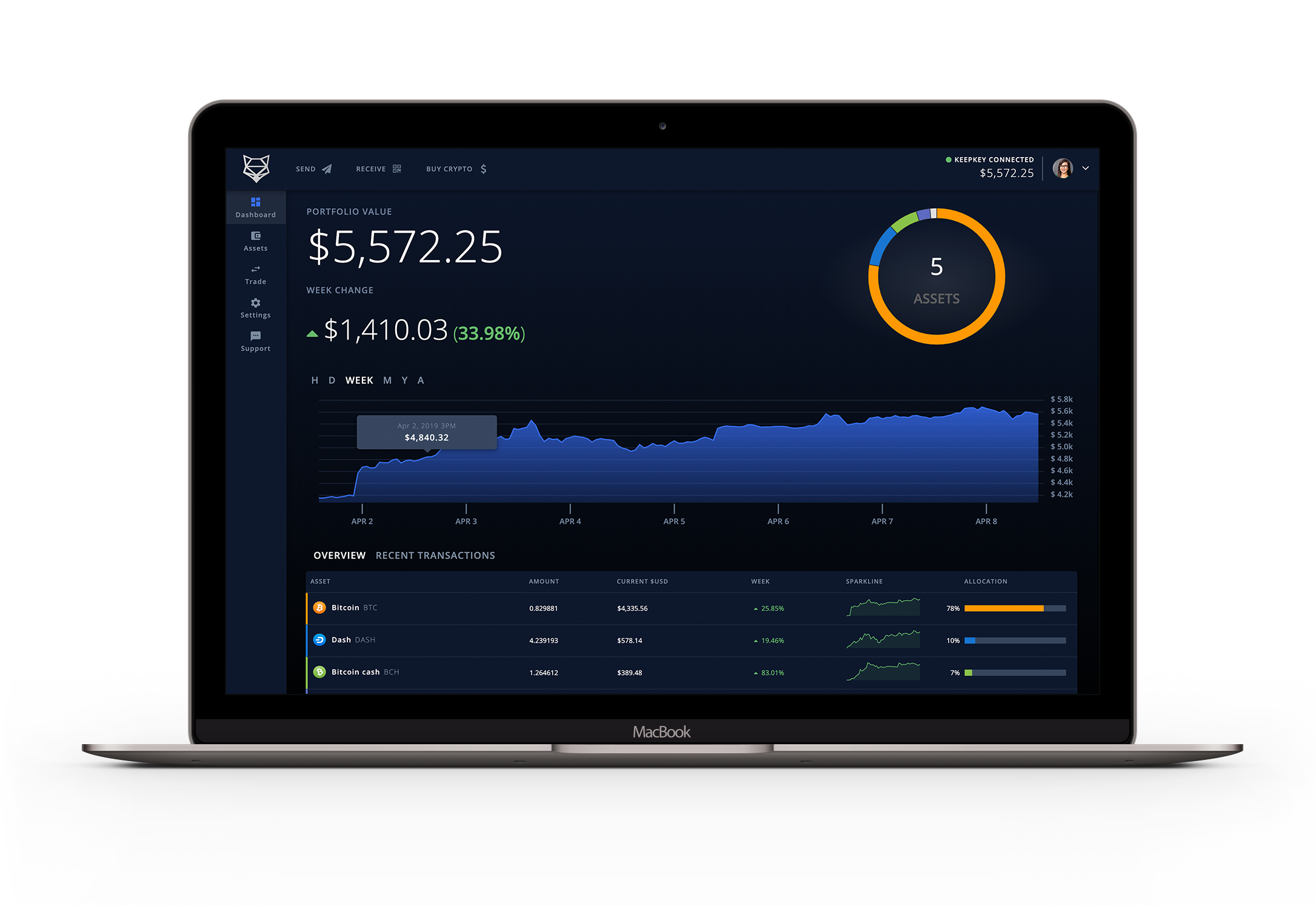 What Cryptocurrencies are Supported?
The KeepKey hardware wallet supports over 1000 different crypto assets via its integration with MyEtherWallet, most of which are ERC-20 tokens. In reality, KeepKey only supports seven crypto assets that are not ERC-20 tokens. This leads to a number of glaring omissions. For example, popular altcoins like Ripple, EOS, and Binance Coin cannot be stored on KeepKey devices.
Here are some of the main crypto assets supported by KeepKey:
Bitcoin Gold (in the KeepKey Client)
DASH
Dogecoin
Ethereum
Litecoin
DigiByte (only on beta.shapeshift.com)
1000+ ERC-20 tokens
Is KeepKey Safe?

As mentioned previously, the fact that KeepKey is a hardware wallet gives it a huge edge over many of the other crypto storage options on the market. Having said that, KeepKey is generally not regarded as a top tier hardware device. TREZOR and Ledger are generally accepted as the top two hardware options on the market, although KeepKey and TREZOR have similar underlying architectures behind them. Notably, past security issues that have affected TREZOR devices also affected KeepKey hardware wallets.
So, while the hardware aspect of KeepKey means it has a leg up on software-only wallets, the reality is there are other options on the market that offer an even greater level of security.
Supported Operating Systems
KeepKey wallets work with all desktop computer operating systems, but the hardware devices do not work with all mobile operating systems.
While integration with Android wallets is possible, the lack of Bluetooth support for the KeepKey wallet means the device will not work with your iPhone.
Potential Dealbreakers
While the KeepKey hardware wallet comes in at a lower price point than its other hardware-based competitors, the reality is that you don't necessarily want to go with the cheap option when you're already paying extra to get more security for your cryptocurrency holdings. Those who are looking to splurge on a hardware wallet may want to go with one of the more established options on the market, such as a device from Ledger.
KeepKey's lack of support for many popular altcoins may also be a dealbreaker for someone who likes to dabble in multiple different crypto assets. Then again, if you're someone who just wants to hold Bitcoin for the long term, then the KeepKey can be a viable option.
Lastly, the lack of iPhone support will be a dealbreaker for anyone who likes to use an iOS-based wallet for their cryptocurrency holdings. Of course, it should be noted that the mobile industry in general appears to be moving to what effectively are hardware wallets integrated directly into the phones.
KeepKey Frequently Asked Questions
---
One of the first things most cryptocurrency users notice about the KeepKey hardware wallet is that it comes at a lower price point than the two other major options on the market. KeepKey does not have the same level of brand recognition or trust as Ledger, so the lower price point makes sense from that perspective. Then again, Ledger offers a variety of different hardware wallets to choose from that come at different prices.
While KeepKey is perhaps best known for its association with ShapeShift, the reality is devices from Ledger can also be used with the ShapeShift cryptocurrency exchange.
KeepKey uses a different chip in its hardware to secure users' private keys from attackers. The chip used by KeepKey is the same chip used in TREZOR hardware wallets.
Finally, Ledger hardware wallets support many more crypto assets than what is offered by KeepKey.
---
No, the KeepKey hardware wallet does not support Bitcoin SV. However, Bitcoin, Bitcoin Cash, and Bitcoin Gold are all supported by the KeeyKey client.
---
Yes, the KeepKey wallet is available for sale on Amazon. However, it should be noted that putting another party between yourself and the creator of the hardware wallet could be viewed as a security hole. Remember, you do not want your hardware device to be in the hands of many other people before you use it for the first time. A direct connection between the hardware manufacturer and the user is always the best option when it comes to this sort of security-sensitive hardware.
---
KeepKey does not have a native mobile app, however, you can use it with the MyCelium app that can be downloaded on any Android or iOS device. KeepKey also has a Google Chrome extension that is built to interact with the hardware device. Keep in mind that you need an OTG cable to connect your KeepKey Hardware wallet to your phone or desktop in order to access the app.
---
Yes, the KeepKey hardware wallet supports the sending and receiving of Litecoin.
---
What happens in a situation where you lose your KeepKey device depends on the precautions you took before the device was lost. If you wrote down your 12-word recovery seed before you lost your device, then you should be able to regain access to all of your crypto assets through the recovery process.
While the recovery phrase is important in a situation where you've lost your device, you need to remember to treat this backup with the utmost importance. After all, if someone is able to gain access to your recovery seed, then the security of your hardware wallet does not matter. The attacker could simply take your recovery seed and input it into a separate KeepKey device. At that point, the attacker would be able to send all of your funds to their own crypto addresses.
In this way, the need to physically store a backup can be seen as a security flaw. To guard against this security hole, some users make multiple copies of their backup phrase and break it up into multiple pieces to be stored at the homes of people they trust or a safety deposit boxes.
---
There are two security incidents that are relevant to the KeepKey hardware wallet.
First, a vulnerability was found in the STMicroelectronics chip used in the TREZOR hardware wallet back in 2017. This same chip is used in KeepKey devices.
The hack that affected the TREZOR and KeepKey devices back in 2017 made it possible for an attacker with physical access to a device to obtain the backup seed associated with a device in a matter of 15 seconds through the use of vulnerabilities found in both hardware and software. KeepKey later disputed the claim that it would be easy to receive the seed phrase associated with a hardware device in just 15 seconds.
Of course, it should be noted that a user is already in a lot of trouble if someone else has stolen their hardware device. From KeeyKey's perspective, they see the point of their devices as to protect their users from remote attacks by hackers over the internet.