>

Buying Bitcoin in the United States: Best US Crypto Exchanges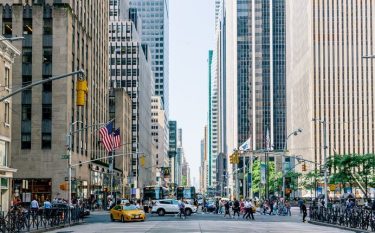 Buying Bitcoin in the United States: Best US Crypto Exchanges
The USA accounts for nearly a quarter of worldwide trading of Bitcoin. This fact alone should give you an idea of accessibility to cryptocurrency in the US. There are currently no federal regulations for cryptocurrency, and each state has its own decision to make regarding its treatment of digital currency, though many have yet to make this decision. Purchase and exchange of cryptocurrencies is totally legal across the country.
While there is no federal legislation for crypto assets in the US, the bodies at the federal level have offered guidance to states. Following the boom in 2014, these federal bodies had to make decisions in their classifications of cryptocurrency. The SEC designated cryptos as digital currency, the CFTC classified them as commodities, and the IRS defined them as property. So, while it is completely legal to buy, sell and trade cryptocurrencies, they are not legal tender.
Best US Bitcoin Exchanges
User-friendly
Great customer service
Low services fees
Diverse and consistently updated choice of coins
Funding Methods
Debit & Credit Bank, Bank Transfer
Trustworthy exchange
Supports many different funding options
Accepts users from across the globe
High trading volume
Funding Methods
Wire Transfer, ACH
Easy sign-up process
Lowest transaction fees of any major exchange
175+ different digital assets available
Free deposits
Funding Methods
Debit & Credit Card, Wire Transfer, ACH
What's the Best Way to Get Cryptocurrency in the USA?
The best way to buy cryptocurrency in the USA is through an exchange such as Coinbase, Kraken, Gemini, Coinmama, Binance, or Changelly. There is a plethora of options available, so it is best to look at each of the exchanges' processes for deposits and withdrawals, fees, and transaction speeds to determine which is best for you.
Is it Easy to Buy Cryptocurrency in the USA?
It is relatively easy to buy cryptocurrency in USA. The first step is choosing a hardware or software wallet, and the second is to pick an exchange to buy from. The most difficult step is getting your identity verified through a Know Your Customer (KYC) process. This involves providing your full name, date of birth, and residential address to the exchange. Your identity must then be verified by providing them with a copy of a passport or government issued ID. Some exchanges provide a video call option. Once the exchange has verified your identity it is easy to buy and sell cryptocurrency. Unlike in Canada, you can even use a credit card to buy cryptocurrency in the US, making it even more accessible.
Is It Legal to Buy Cryptocurrency in the USA?
It is legal to buy cryptocurrency in the USA. The US federal regulators have classified cryptocurrencies as commodities, securities, and property, meaning that while you can purchase, trade, mine, or interact with cryptocurrency, it is not eligible to be a registered investment and transactions are subject to gains and losses in relation to your taxes. It is best to think of cryptocurrency in the same vein as gold or silver, classic examples of commodities.
Can I Buy Bitcoin in the USA?
Yes! You can buy Bitcoin in the USA through an online exchange or a Bitcoin ATM. Online exchanges such as Coinbase make it simple to purchase Bitcoin with a credit card, debit card, bank transfer, or bank wire. There are higher fees when purchasing Bitcoin with a credit card or debit card compared to a bank transfer, something to keep in mind when deciding where and how to purchase your Bitcoin.
But What's the Best Way to Buy Crypto in USA?
This is up for debate but most people would agree that exchanges are certainly the easiest way to purchase cryptocurrency. After signing up for an exchange you'll be able to buy and sell crypto from the comfort of your own home. The process is similar to how it works for popular stock broker websites like TD Ameritrade or E-Trade.
The important part, however, is to make sure that you sign up for reputable cryptocurrency exchanges. There have been some examples of shady exchanges going bankrupt and leaving their customers high and dry. Fortunately the reliability of cryptocurrency exchanges has improved immensely over the last few years and we list some of the most best and most secure cryptocurrency exchanges right here on CryptoVantage.
Conversely some people prefer to use peer-to-peer cryptocurrency exchanges where customers in a specified region trade coins to each other directly. These types of exchanges have some downsides, however, as it can be much more difficult to facilitate trades.
Are There Any States Where Cryptocurrency is Unavailable?
There are no states where cryptocurrency is unavailable for purchase. However, due to the regulations being done at a state rather than a federal level, there are some states that you may want to avoid doing cryptocurrency business in. Four states you may want to avoid are New York, Rhode Island, Arizona and Hawaii.
New York has implemented a policy where any business dealing with cryptocurrency must apply for a BitLicense, which has a $5000 application fee, and has 44 pages of compliance requirements. Since implementation most crypto firms have moved out of NY state.
Rhode Island assesses sales tax on all cryptocurrency transactions and development, meaning that as a business you get taxed for accepting cryptos, but also for developing or researching cryptos. Like NY, most firms have jumped ship.
Arizona has adopted the same policy as Rhode Island, taxing companies doing even just software development and imposing sales tax on any transaction made with cryptocurrencies.
Meanwhile Hawaii doesn't have any laws against cryptocurrency but it requires all exchanges to have their entire cryptocurrency balance backed up by traditional currency. Therefore most major US-based cryptocurrency exchanges have opted to not offer service to residents of the Aloha state.
What's the Cheapest Way to Buy Cryptocurrency?
The cheapest way to buy Bitcoin in the USA is through an online cryptocurrency exchange. The exchange that is cheapest depends on their fees, whether for depositing, withdrawing, or trading. Your preferred funding method is a large factor in which exchange is best for you. Quite often credit and debit cards will be among the more expensive ways to purchase cryptocurrency but people still do it because of the convenience. You can also go for lower-fee methods, such as wire transfers, but they take considerably longer. It should also be noted that you do not have to use an American exchange (as in American-based), as exchanges such as Binance accept American customers and have lower fees than some American exchanges.
Can I Sell My Bitcoin in the USA?
Yes! You can sell your Bitcoin (or any other crypto) in the USA through an exchange. Simply deposit your Bitcoin (assuming it's stored in your wallet, and not already on the exchange) onto the exchange. Once it is on the exchange you can sell it for market value, and then once it is sold you can withdraw the funds to the bank account you connected to the exchange. Keep in mind that you will be taxed on any gains made selling cryptocurrency in the USA, similar to any situations where there are capital gains. It's similar to how the government views the stock market.
Is it Possible to Buy Other Cryptocurrency with Bitcoin?
Absolutely. Swapping different cryptocurrencies is actually much easier than buying cryptocurrency with fiat (such as USD, CAD or EUR).
There are obviously quite a few more regulations surrounding traditional currencies (which can be a good or bad thing) but once you acquire cryptocurrency things will become much more fluid. It's very easy to swap for different cryptocurrency, such as turning Bitcoin into Ethereum or vice versa. It's actually relatively easy to start an account on multiple exchanges — provided you already have cryptocurrency. That's because Exchanges require significantly less identity verification if you're only going to be swapping cryptocurrency. Sometimes an email address will be enough.
Buying cryptocurrency with traditional currency is often going to be the most difficult part of getting involved with the cryptocurrency market.