>

Ellipal Titan Wallet Review
Completely air-gapped hardware wallet
Tamper proof and keys are never exposed to the internet
Connects with the Ellipal app to easily send and receive crypto
Up-and-coming company
Platforms Supported
Android & iOS
General Overview
Private keys stored in air-gapped cold storage

Wallet uses no data transmission, only generates QR codes

Wallet is tamper-proof

Easy to send and receive funds with Ellipal App

Private keys never exposed to internet
Limited number of assets supported

More expensive than other cold storage options

No desktop compatibility
Ellipal Titan at a Glance at a Glance
Platforms supported:
Android, iOS
Cryptocurrencies supported:
33+
Mobile support:
Yes (Android, iOS)
Best Features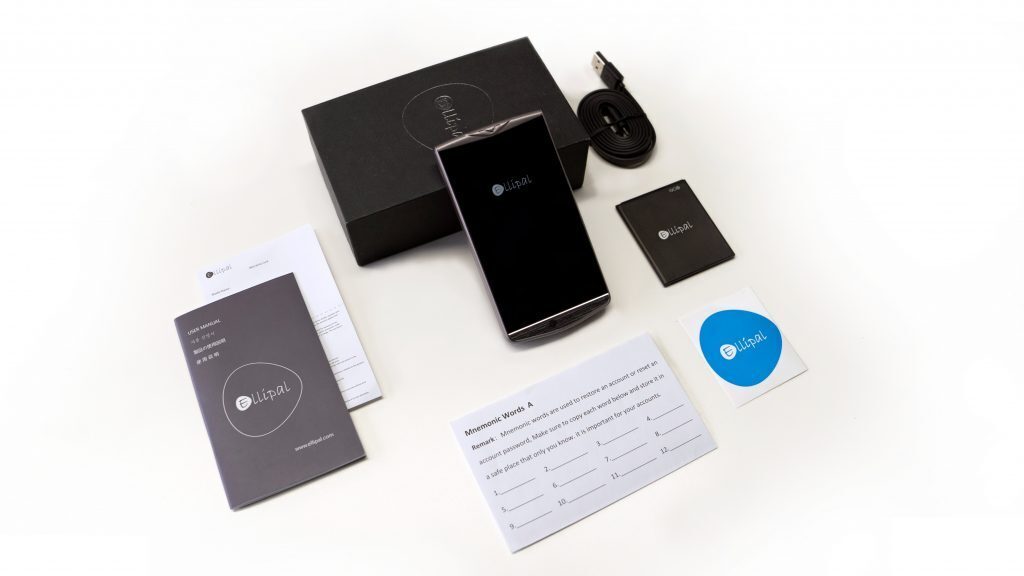 The best features of the Ellipal Titan Wallet are related to its tamperproof design, its use of QR codes in order to allow it to be completely disconnected from the internet or other data connection point, and its ease of use with the Ellipal app. The device is essentially impenetrable unless you use a significant amount of force, and even if you are able to force your way into the casing, the device will delete all the stored private keys. This makes the device completely tamper-proof and compared to other devices such as the Trezor Model T, this is a significantly important feature.
All transactions are done using QR codes, which allows the device to be a cold storage wallet. In order to send crypto assets from your Ellipal Titan:
Step 1: You have to generate a transaction in the Ellipal App, which creates a QR code.
Step 2: You then scan this QR code with the Ellipal Titan Wallet's camera and the wallet generates a QR code that contains the signed transactions.
Step 3: You can then scan that QR code with the app and the transaction is broadcasted from the Ellipal App, having been signed by the device.
At no point in this process is your private key transmitted, which makes it extremely safe. The entire process is also quite simple and takes less than a minute, making the wallet very easy to use. All balances are displayed on the Ellipal App, not the wallet, as the wallet has no access to the internet in order to see amounts and values of your stored assets.
What Cryptocurrencies Are Supported?
Currently, the Ellipal Titan Wallet supports 33 crypto assets and over 7000 tokens. As they proudly state on their website, new coins are added each month. Some of the supported assets are:
Dash (DASH)
Ethereum Classic (ETC)
Is Ellipal Titan Safe?
The Ellipal Titan Wallet is very safe due to the fact that it is an air-gapped, cold storage wallet. There is no way it can be connected to the internet. By using only QR codes for transactions, the Ellipal Titan Wallet is very safe from hackers. All QR codes are verifiable and secure. Ellipal has put their codebase on QR code on GitHub, to increase trust among their users. Anyone can audit and verify their code.
The Ellipal Titan is also a very solid piece of hardware, made of one fully metal shell that it airtight, dustproof and water resistant. As mentioned in the previous section, breaking into the device is very difficult. Successful attempts to break into the physical shell will result in the device deleting all the stored private keys. Your assets still remain safe and can be recovered using your recovery seed created when first setting up the device.
Supported Operating Systems
The Ellipal Titan is a mobile-focused hardware wallet so unfortunately it has no desktop compatibility, it is only available as a mobile app for Android and iOS.
Potential Dealbreakers
There are really only two downsides to the Ellipal Titan Wallet. The first is the cost, at $169 USD it is much more expensive than something like the Ledger Nano X, but you are paying for a much larger and secure piece of hardware, with a full touch screen and built-in camera. While it is more expensive, the added costs are fairly warranted, and if you are storing thousands of dollars in crypto assets it is worth guarding them.
The other potential downside is the number of assets currently supported by the Ellipal Titan. While it does support most of the well-known crypto assets, it is missing some key ones such as Tezos (XTZ), Chainlink (LINK), and Cosmos (ATOM). That being said, they are adding support for new assets every month so this downside will likely disappear over time.
Ellipal Titan Frequently Asked Questions
---
The Ellipal Titan is so expensive because it is a hardware device with a full touch display and built-in camera. It is also extremely difficult to break into the shell of the device. The high price point is warranted by its high security.
---
Yes! Ellipal Titan supports Apple Pay and Visa/Mastercard through the Ellipal App.
---
The Ellipal Titan is IP65 waterproof which means that it is essentially water resistant to splashes hitting it from any angle, but it is not able to resist immersion into water.
---
No! No one has hacked an Ellipal Titan.
---
The Ellipal Titan is air gapped to prevent data being transmitted to or from the device, thus keeping the private keys safe from hack attempts.
---
It could be argued that the Ellipal Titan is better than the Ledger Nano X in terms of security, but the current gap in asset support and the ability to stake your assets on the Ledger Nano X make it a close race.
---
Yes! Ellipal Titan is good for storing Ethereum and all ERC20 tokens.