>

How to Buy Bitcoin in Belgium: Complete Cryptocurrency Guide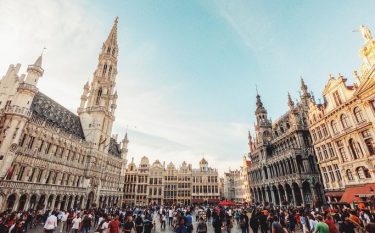 Buying Cryptocurrency in Belgium
Best Cryptocurrency Exchanges in Belgium
User-friendly
Great customer service
Low services fees
Diverse and consistently updated choice of coins
Funding Methods
Debit & Credit Bank, PayPal, ACH, Bank Transfer
Trustworthy exchange
Supports many different funding options
Accepts users from across the globe
High trading volume
Funding Methods
Wire Transfer, ACH
Is it Legal to Buy Cryptocurrency in Belgium?
One of the first questions that newcomers to cryptocurrency have is about the legality of the entire crypto asset class ecosystem. While it's true that some countries have implemented heavy restrictions on the use of Bitcoin and other cryptocurrencies, the reality is this technology is generally legal to use in free nations around the world—and that includes Belgium. In fact, Bitcoin is not subject to Value Added Taxes (VAT) in Belgium.
While there is a lot of noise in the media regarding the use of Bitcoin in illicit, criminal activities, the reality is that the average person on the street can still use this digital asset as a medium of exchange. For now, financial regulators in Belgium are mostly interested in tracking cryptocurrencies at the entry and exit points of the networks, which mainly means they are interested in the exchanges. This is why new users must hand over a large amount of personal information when they use one of these platforms in Belgium. However, it should be noted that this is the case for nearly all jurisdictions around the world.
How Easy is It to Buy Bitcoin in Belgium?
Buying Bitcoin in Belgium is extremely simple, as many of the major exchanges are able to operate in this country. Well-known exchange platforms, such as Coinbase and Coinmama, make it as easy as possible for anyone in Belgium to gain access to their first Bitcoin, and altcoins are easy to access as well. Well-established trading platforms for more advanced users, such as Bitstamp and Kraken, are also available.
There's nothing wrong with using an exchange with a slick user interface to gain access to the crypto economy for the first time, but consumers should remember that these sorts of platforms for newcomers tend to come with higher fees. For example, buying Bitcoin in a physical space via an ATM or on an exchange with a credit card will definitely make the process much easier to handle, but you'll be charged fees in the range of 2-5% for these sorts of transactions.
Whats the Best Cryptocurrency Exchange to Use in Belgium?
If you're going to purchase cryptocurrency in Belgium, then you'll want to find a platform that has a nice balance between usability and cost. If you're not too concerned about handing your personal information over to a third party, then the best options in Belgium are going to be one of the established, centralized platforms that allow you to connect your bank account and gain access to global liquidity. In the case of Belgium, Kraken is the perfect exchange to choose due to the liquidity it offers on EUR trading pairs. Kraken's fees are also extremely competitive on a global scale, and users are able to use a simplified trading interface that isn't much harder to figure out than simply clicking a big button that says "Buy Bitcoin".
While Kraken has features that are useful for newcomers, it's still a platform that is mostly focused on more advanced cryptocurrency traders. A second option for an exchange with an easy to use interface is Bitpanda. Its intuitive design makes it extremely easy to navigate for crypto newcomers.
What is the Best Altcoin Exchange in Belgium?
If you're already using Kraken for your Bitcoin purchases, then you'll notice that there are a large number of altcoins available for trade on the platform as well. For most cryptocurrency users, it's likely that Kraken will have all of the coins or tokens that the user wishes to trade. However, Binance is an alternative option if you want to get into some of the more niche offerings on the market. Additionally, Binance is an attractive option for privacy-conscious users, as they tend to have lower requirements when it comes to account verification. That said, this limited version of anti-money laundering restrictions are limited to 2 Bitcoin's worth of activity per day.
What is the Cheapest Way to Buy Bitcoin in Belgium?
While Belgium is known to be a hotbed of Bitcoin ATM activity, the reality is these systems will not give you access to cheap cryptocurrency transaction fees. For low fees, you'll need to connect your bank account to a global exchange that has plenty of liquidity and is actually registered as a regulated entity. As mentioned previously, the relatively low fees combined with high EUR-based liquidity on Kraken make this platform the cheapest option for buying Bitcoin and most other cryptocurrencies in Belgium.
Bitpanda is the cheapest option when it comes to more user-friendly platforms, and they even have an advanced platform available for more experienced crypto traders in the form of Bitpanda Pro.
How Do I Sell Bitcoin in Belgium?
Selling your Bitcoin can be a pretty simple task, as there are a large number of Bitcoin ATMs in the country. These ATMs usually have fees in the range of 5% to 10% in various locations around the world, and the devices in Belgium tend to be on the low end of that range.
To get a better deal on your sale of crypto assets, you will need to go with an exchange like Kraken or Bitpanda. After connecting your bank account and sharing some personal details with the exchange, you will be able to sell your bitcoin on the exchange itself, at a much lower cost than at Bitcoin ATMs.
Can I Purchase Bitcoin with a Credit Card in Belgium?
If you're going to purchase Bitcoin with a credit card in Belgium, then you may want to take a closer look at Coinmama. The platform offers the highest limits on the market in terms of purchases made via a credit card or debit card, and the fee for the purchase will be around 5%. You can also purchase Bitcoin instantly with a debit card via Coinbase at a lower cost; however, it should be noted that this exchange platform has lower limits in terms of how much cryptocurrency you can buy via this payment method.
Depending on your bank and credit card provider, you may not be able to purchase Bitcoin and other cryptocurrencies with it. In most cases, you will want to avoid purchasing Bitcoin via a credit card, as the fees make the transaction uneconomical in many situations.