>

Buy Bitcoin Argentina | Guide | CryptoVantage 2020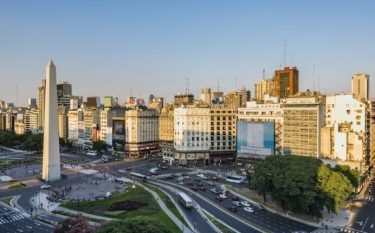 Buy Bitcoin in Argentina: Top Cryptocurrency Exchanges
Best Bitcoin Exchanges in Argentina
User-friendly
Great customer service
Low services fees
Diverse and consistently updated choice of coins
Funding Methods
Debit & Credit Bank, PayPal, ACH, Bank Transfer
Trustworthy exchange
Supports many different funding options
Accepts users from across the globe
High trading volume
Funding Methods
Wire Transfer, ACH
Easy sign-up process
Lowest transaction fees of any major exchange
175+ different digital assets available
Free deposits
Funding Methods
Debit & Credit Card, Wire Transfer, ACH
Is Cryptocurrency Legal in Argentina?
Bitcoin and cryptocurrency are legal in Argentina. They are not considered to be legal tender because they are not issued by the Central Bank. Because of the strict control over foreign currencies in Argentina, Bitcoin has become increasingly popular as a means of investment. It is taxed much like securities and bonds are.
While there are no laws against it, Argentina's Financial Information Unit (FIU) has ordered stricter controls on crypto transactions in order to counteract money laundering and other unwanted behaviors. The Argentine government wants to clamp down on citizens buying Bitcoin with Argentine Pesos and converting it to USD. One of the ways they have attempted to slow this pattern is by banning the purchase of Bitcoin and other cryptos with Argentinian credit cards.
The high adoption of cryptocurrency among Argentine citizens can be linked to the high volatility of the Argentine Peso, as the value of the peso against the US dollar has dropped by 85 percent in the past five years.
How Do I Buy Cryptocurrency in Argentina?
Buying cryptocurrency in Argentina is a fairly straightforward process. While there are options such as Bitcoin ATMs where you make a cash deposit, it is likely faster and more convenient to use one of the many peer to peer crypto exchanges available to those who live in Argentina. You will need to register for the exchange, which will likely entail providing some personal information in order to verify your identity. You should choose to register with an exchange that is reputable, has decent trading volume, and offers a variety of trading pairs with low trading fees. Try to make sure they support any altcoin you are hoping to buy before registering, or you will have to start the process again with another exchange. Check out our cryptocurrency exchange reviews for more insight.
After you are registered it is easy to buy digital assets instantly through a variety of payment methods such as debit card, a credit card, or take the slower route and use a bank transfer to fund your account. It should be noted that Argentinian credit cards will not work when trying to buy crypto. If you are simply funding your account with fiat currencies instead of directly purchasing crypto you will need to then exchange your fiat for Bitcoin or any other supported altcoin that the exchange supports as a trading pair for your fiat. Buying Bitcoin is the best way to buy any other alternative cryptocurrency you are interested in as all crypto assets are paired to Bitcoin. Regardless, once you have funded your account it is easy to find buyers and sellers of whatever assets interest you.
What is the Best Exchange in Argentina?
While there are many exchanges which are available to Argentinian citizens, there are not very many that have a trading pair between Bitcoin and the Argentine Peso (ARS) on their trading platform. The best Bitcoin exchange for Argentinians would be one that allows you to trade cryptocurrencies between Bitcoin and ARS, not solely the USD, EUR or GBP. This factor limits the exchanges, as even the largest cryptocurrency exchanges tend to avoid ARS, as the currency is not considered to be strong. Still, here are three of the best exchanges in Argentina:
Bitso
Founded in 2014, Bitso is one of the only regulated crypto platforms in Latin America. It allows users to buy and sell cryptocurrencies both in Argentinian Pesos and Mexican Pesos, along with the United States Dollar. Currently the biggest crypto exchange in Argentina.
Buda
Founded in 2015, Buda caters to South Americans by being one of the only crypto exchanges to accept multiple South American fiat currencies. They have trading pairs with the Chilean Peso, Mexican Peso, Columbian Peso, and Argentinian Peso. The exchange caters exclusively to South America, US investors cannot use the exchange.
CryptoMarket
Based in Chile, CryptoMarket offers the same advantages to Argentinians as the other two exchanges we have noted, they accept ARS as a direct funding method. However, they stand out amongst the choices due to their direct trading pairs between ARS and altcoins such as Ethereum, Stellar and EOS. If you are looking to buy not only Bitcoin, but altcoins with ARS then CryptoMarket is likely your best bet.