>

How to Buy Bitcoin in Brazil: Complete Cryptocurrency Guide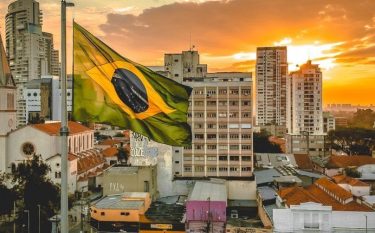 How to Buy Bitcoin in Brazil: Complete Cryptocurrency Guide
Is Bitcoin Legal in Brazil?
Of course, one of the first things people ask when they hear about bitcoin for the first time is whether or not it is legal. The reality is the laws and regulations around this new technology are different in every country, but the good news is that Brazil is not one of the few countries that has decided to take a negative stance on the cryptocurrency revolution.
Although there are no regulations around bitcoin specifically in Brazil, the reality is that anyone is currently free to use it for any purpose if they wish. The only noteworthy statements regarding Bitcoin that have come out of the government in Brazil have come from the Banco Central do Brasil.
This central bank took the approach of many other central banks around the world by simply warning their citizens that there a number of different risks to worry about when it comes to Bitcoin and cryptocurrency. Indeed, the way crypto works is completely different from the traditional financial system, so it's not a bad thing that the central bank decided to simply educate the population about things like price volatility and taking full custody over one's digital assets.
That said, the central bank in Brazil has also gone as far as to discourage the use of bitcoin in the country due to the perceived risks they see with the cryptocurrency ecosystem. However, the fact that Bitcoin is simply unregulated and not outright banned should be viewed as a positive for now.
How to Buy Bitcoin in Brazil
Although Bitcoin is not regulated in Brazil, there are still a number of different ways to access the cryptocurrency ecosystem via local, international, and peer-to-peer (P2P) exchanges.
In terms of local exchanges available in Brazil, three of the most well-known names in the business are Mercado Bitcoin, Bitso, and Foxbit. Local exchanges are usually the best option if you are new to Bitcoin because they can do a lot more hand holding than the global exchanges.
Additionally, these domestic exchanges tend to be more plugged into the local financial infrastructure, which means it will be much easier to gets funds on and off the exchange in a timely fashion.
Anyone who needs access to large levels of liquidity or more powerful trading engines will probably want to opt for one of the global exchanges such as Binance or Kraken. Binance is also the best option if you're looking to trade a large amount of different niche crypto assets, as they literally have over a thousand different trading pairs listed on their platform.
P2P exchanges are also a solid option for those who do not have access to a bank account or simply wish to retain a certain level of privacy and anonymity with their Bitcoin activities.
Paxful and LocalBitcoins are two well-known P2P exchanges that are available in Brazil, but there is also a local option known as AirTM. A unique feature of AirTM is that it allows users to hold U.S. dollars in their accounts, although it should be noted that Paxful recently integrated the Tether stablecoin into their platform as well.
One final option for purchasing bitcoin in Brazil that should be mentioned is the Bitcoin ATM. There are three Bitcoin ATMs in Sao Paulo and one in Rio de Janeiro. It should be noted that this option tends to come with much higher fees than any of the other options, but they're also the best bet if you need to move in or out of crypto quickly in some situation.
What is the Best Cryptocurrency Exchange in Brazil?
Although many of the early bitcoin exchanges were focused on the United States, Europe, and China, there are now a number of exchanges available that are focused on the South American market, including Brazil.
In terms of trading volume, the most popular exchange in Brazil right now is Mercado Bitcoin. In fact, this is the largest exchange in all of South America. Most Bitcoin users in Brazil will find that this exchange is the best option because it allows users to get funds on the platform via both cash deposits and bank transfers. Additionally, there is no user verification required in order to get funds onto the exchange via a cash deposit.
You will also be able to trader directly between Brazlian real and bitcoin rather than having to first convert your real to U.S. dollars. Of course, much of the global trading volume is denominated in dollars, so you will still need to seek out another option if you're looking to make large trades. Bitso and Foxbit are two other well-respected crypto exchanges that cater to the Brazil market, so you may want to also look into those options before making a final decision on your exchange of choice.
Banks in Brazil Don't Like Bitcoin
One thing to keep in mind when you're trying to move between fiat currency and cryptocurrency in Brazil is that some of the banks really don't like Bitcoin. Multiple banks have shut down the accounts of businesses that are associated with Bitcoin, which is part of the reason as to why P2P trading is rather popular in this country.
Bradesco, which is one of the largest banks in Brazil, even closed the personal bank accounts of the owners of an exchange called Bitblue back in 2018.
When you combine these bank account closures with the multiple warnings the central bank has given against bitcoin and other cryptocurrencies, it becomes clear that it may be a good idea to not be too loud about your involvement in the Brazilian cryptocurrency community.
This is also a good general rule of thumb in any country that has a history of high levels of inflation or unsustainable, debt-powered spending, as cryptocurrency users could eventually become scapegoats for local politicians.