>

Buy Bitcoin in Mexico: Top Cryptocurrency Exchanges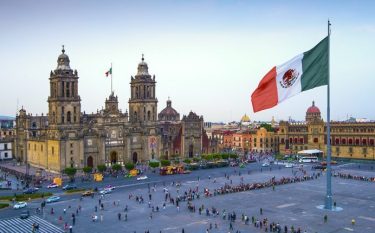 Buy Bitcoin in Mexico: Top Cryptocurrency Exchanges
Best Bitcoin Exchanges in Mexico
User-friendly
Great customer service
Low services fees
Diverse and consistently updated choice of coins
Funding Methods
Debit & Credit Bank, PayPal, ACH, Bank Transfer
Trustworthy exchange
Supports many different funding options
Accepts users from across the globe
High trading volume
Funding Methods
Wire Transfer, ACH
Excellent customer support
Very fast transactions
Major coins are available for purchase, including Bitcoin, Ethereum & Litecoin
Great security
Funding Methods
Debit & Credit Card, Wire Transfer, ACH
Is Bitcoin Legal in Mexico?
There are no restrictions on the use of bitcoin and other cryptocurrencies in Mexico. That said, there are some laws on the books in terms of how this new financial technology should be used by both individuals and businesses.
For example, any business that is involved in the cryptocurrency industry must explain the risks associated with crypto assets to their customers. While there are no rules against the creation of bitcoin exchanges and other cryptocurrency-related businesses, the reality is that regulators want to make sure that the average person in Mexico understands the serious risks around cryptocurrencies before they decide to jump into this global financial experiment.
In terms of the use of bitcoin on an individual basis, users don't have much to worry about. Of course, it should be noted that the capital gains taxes that could potentially be associated with bitcoin are a bit unclear at this time. Be aware that the taxman could potentially come calling in a situation where your bitcoin has increased in value and you start spending some of that new-found wealth.
It should also be noted that bitcoin and other cryptocurrencies are technically not legal tender in Mexico. That said, this just means that merchants cannot be forced to accept cryptocurrency-based payments from customers. Merchants are still able to accept bitcoin for payment if they choose to do it.
Newly-created tokens are also regulated as securities in the country, so this should not be viewed as a place that is friendly to the creation of new crypto assets.
Obviously, anyone operating a cryptocurrency exchange or another business that takes custody of users' crypto assets needs to make sure that they're in compliance with various anti-money laundering regulations in Mexico.
How to Buy Crypto in Mexico
There are a variety of different options for buying crypto in Mexico. There are a large number of traditional, centralized exchanges in this country, and peer-to-peer platforms or Bitcoin ATMs can also be an option if you'd like to avoid those other centralized portals.
One of the more interesting aspects of buying bitcoin in Mexico is the integration that is available via Oxxo and 7-Eleven stores. These convenience stores allow anyone in Mexico to purchase bitcoin at thousands of physical locations around the country. When these options for buying cryptocurrency are used, the customer does not even need to have access to a bank account. When purchasing bitcoin at a physical establishment like Oxxo or 7-Eleven, the user simply exchanges physical cash for a receipt that contains access to the cryptocurrency that was purchased. The user then has three days to claim the bitcoin or other cryptocurrency that is stored on the receipt. Exchanges like Bitso are also integrated into these purchasing options, which means a user can use cash to get money onto an exchange almost instantly with a reasonable 2.6% fee attached to the transaction. Oxxo Pay is also integrated into Paxful, which means users are able to use this payment method to purchase bitcoin in a P2P manner.
On top of these physical locations for purchasing bitcoin, there are also plenty of global crypto exchanges available in Mexico that allow users to gain access to lower fees and much higher levels of liquidity.
Of course, there are also plenty of Bitcoin ATMs available for use throughout Mexico as well, especially in the various tourist destinations around the country.
What are the Best Bitcoin Exchanges in Mexico?
All of the usual crypto exchange platforms, such as Coinbase and Kraken, are available in Mexico. These are usually going to be the best options for trading cryptocurrencies, as they offer low fees, global liquidity, and a myriad of other features that help users gain access to the best possible deals on their cryptocurrency purchases. If you have access to a bank account and don't mind going through an extensive Know Your Customer verification process, then using one of these global exchanges is going to be your best bet.
That said, there are also options available that are more focused on the Mexico cryptocurrency market. Two key examples here are Bitex and Bitso. Bitex is a Latin American exchange that operates in Mexico and many South American countries, and it allows users to fund their accounts with cash and AstroPay. Bitso is an exchange that is specifically focused on Mexico, and as mentioned previously, it enables the cash deposit option via Oxxo and 7-Eleven stores.
Can I Buy Bitcoin Without ID in Mexico?
It's possible to purchase bitcoin anonymously in Mexico, but these sorts of transactions usually come with some issues in the form of higher fees and less convenience. Using a centralized exchange is going to be the most convenient option, as it allows you to connect a bank account directly to a market for trading bitcoin for fiat currencies at a low cost.
The best way to purchase bitcoin without ID in any country is always going to be via some sort of P2P option. Platforms like LocalBitcoins, Paxful, and HodlHodl are perfect for getting started with this option, but there's also nothing wrong with moving off of these platforms once you've found a trusted source you can use to buy and sell bitcoin in the future. It should also be noted that LocalBitcoins has started to crack down on anonymous accounts, so you will want to interact with that platform as little as possible if you're interested in retaining a certain degree of privacy with your cryptocurrency trades.