>

How to Buy Bitcoin in France: Best Crypto Exchanges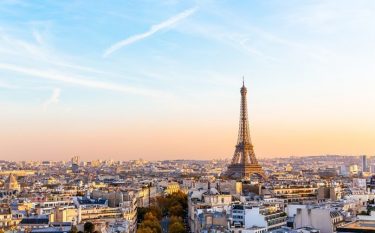 How to Buy Bitcoin in France
Best Exchanges for Buying Bitcoin in France
User-friendly
Great customer service
Low services fees
Diverse and consistently updated choice of coins
Funding Methods
Debit & Credit Bank, PayPal, ACH, Bank Transfer
Trustworthy exchange
Supports many different funding options
Accepts users from across the globe
High trading volume
Funding Methods
Wire Transfer, ACH
Excellent customer support
Very fast transactions
Major coins are available for purchase, including Bitcoin, Ethereum & Litecoin
Great security
Funding Methods
Debit & Credit Card, Wire Transfer, ACH
One-stop shop for crypto with built-in exchange, app, lending platform, debit card and more
Native CRO token assists in making low-fee transactions
Potential for high amount of interest when storing digital assets on Crypto.com
A long-term goal of building cryptocurrency adoption on whole
Is Cryptocurrency Legal in France?
France has made cryptocurrency not only legal, but more regulated than almost any other country in the world. They consider Bitcoin and other cryptocurrencies to be digital assets. It is taxed in the same manner as stocks.  In 2019 they passed the PACTE Bill into law, essentially it will establish a framework for fundraising via the issuance of virtual tokens, often referred to as an Initial Coin Offering or ICO, and digital assets services providers (DASP), or more commonly referred to as an Exchange or Broker.
Initial Coin Offerings have not been regulated in any nation, the consequence of that being the numerous tales of scams and failed investments during the rush of 2017 when investors flocked to alternative cryptocurrencies as Bitcoin skyrocketed.
If someone wishes to launch a blockchain project in France they can apply for a vias from the Autorité des Marchés Financiers (AMF), or French Financial Markey Authority in English. They will then be required to incorporate themselves as a legal entity established or registered in France, provide documentation about the project and company objectives, set up a system for monitoring and guarding assets they raise, and comply with Anti Money Laundering (AML) and terrorist financing regulations.
All companies that receive the visa will be published on the AMF website, essentially guaranteeing investors are receiving legitimate information about a potential investment. The caveat to this regulation is that it is not mandatory. You can still start an ICO in France with no AMF visa, you just will not be able to solicit your company to anyone. Overall, it is a good framework for weeding out disingenuous ICOs.
Likewise, their framework for DASPs is optional, but again helps provide investors with reliable information and guarantees. A DASP can cover a range of activities: custody of digital assets, purchase or sale of crypto assets against legal tender or other cryptocurrencies (broker), and operation of a trading platform (stock exchange).
DASPs seeking a license from the AMF will be subject to supervision and have a set of core rules regarding insurance, internal controls procedures, their IT system, having transparent pricing and so forth. This is all with the goal of ensuring market integrity.
How Do I Buy Cryptocurrency in France?
Buying cryptocurrency in France is a fairly straightforward process. While there are options such as Bitcoin ATMs where you make a cash deposit, it is likely faster and more convenient to use one of the many peer to peer crypto exchanges available to those who live in the European Union. You will need to register for the exchange, which will likely entail providing some personal information in order to verify your identity. You should choose to register with an exchange that is reputable, has decent trading volume, and offers a variety of trading pairs with low trading fees. Try to make sure they support any altcoin you are hoping to buy before registering, or you will have to start the process again with another exchange. Check out our cryptocurrency exchange reviews for more insight.
After you are registered it is easy to buy digital assets instantly through a variety of payment methods such as debit card, a credit card, or take the slower route and use a bank transfer to fund your account. If you are simply funding your account with fiat currencies instead of directly purchasing crypto you will need to then exchange your fiat for Bitcoin or any other supported altcoin that the exchange supports as a trading pair for your fiat. Buying Bitcoin is the best way to buy any other alternative cryptocurrency you are interested in as all crypto assets are paired to Bitcoin. Regardless, once you have funded you account it is easy to begin buying and selling cryptocurrency.
What is the Best Exchange in France?
Many global exchanges, even some in the United States, accept Euros as a deposit and withdrawal method, meaning it is not necessarily much more beneficial for French citizens to seek out an exchange housed in France. That said, they have some good options to choose from if they do, and these exchanges adhere to the regulations covered in the section on legality, thus ensuring a level of confidence for users of those exchanges that have obtained an AMF license.
Based in Paris, Coinhouse began operation in 2014 and provides 200,000 European Union customers with easy access to Bitcoin, Litecoin, Ethereum, Ripple and Bitcoin Cash. It is a broker service with an optional personal investment service.
Also based in Paris, Paymium launched in 2011 and solely offers Bitcoin and Euro trading. Their main draw is that any trade maker actually receives a 0.1% fee as cashback for each trade they complete. Taker fees are fairly standard at 0.5%.
Another Paris based Bitcoin exchange, Bitit has been in operation since 2015. The platform offers non-custodial cryptocurrency trading, meaning they do not store your assets, but they instead go straight into your own wallet. It is developed, hosted, and regulated in France, making it compliant to new local and European regulations. Euro to Bitcoin buys can be made via SEPA, Mastercard and Visa. Fees are as low as 0.25% for SEPA transactions, making it an attractive option. They also offer many more available assets for buyers and sellers to work with.
Best Wallets for French Users
Unlike the type of fiat currencies an exchange accepts, cryptocurrency wallets are all but universal. Depending on the amount of security you are looking for there is a variety of choice available. The most secure crypto wallets are hardware wallets such as the Ledger Nano X, Ledger Nano S, Trezor Model T, or Trezor One. If you are okay with a software wallet then you can choose from options such as Exodus or Atomic Wallet.
Click here for our many reviews of hardware and software cryptocurrency wallets.