>

Comprehensive Bitpanda Review
Comprehensive Bitpanda Review
Bitpanda is a digital asset brokerage based in Vienna, Austria. The platform was founded in 2014 and offers a variety of different features from automatic purchases to the ability to trade precious metals. It is renowned as one of the most popular cryptocurrency exchanges in the EU with a number of features just for Europeans. Our Bitpanda Review will help you determine if it is right for you.
Trustworthy reputation
Best exchange in Europe
Variety of different crypto tokens available or trade
User friendly platform
Funding Methods
Debit & Credit Card, Wire Transfer
No history of security breaches

User friendly interface for new users

A variety of different crypto tokens available for trade

One of the best cryptocurrency exchanges in Europe
Relatively low trading volumes for specific market pairs

Designed for beginners rather than experienced traders
Funding Methods at Bitpanda
| | | | |
| --- | --- | --- | --- |
| Bank Account (ACH) | No | No | n/a |
| Credit/Debit Card | Yes | No | Instant |
| Wire transfer | Yes | Yes | 1-3 days |
Sign-up Process
Like most other exchanges, the sign-up process at Bitpanda works in levels. Here is the information required to gain access to an initial, unverified account:
First name
Last name
Email address
Country of residence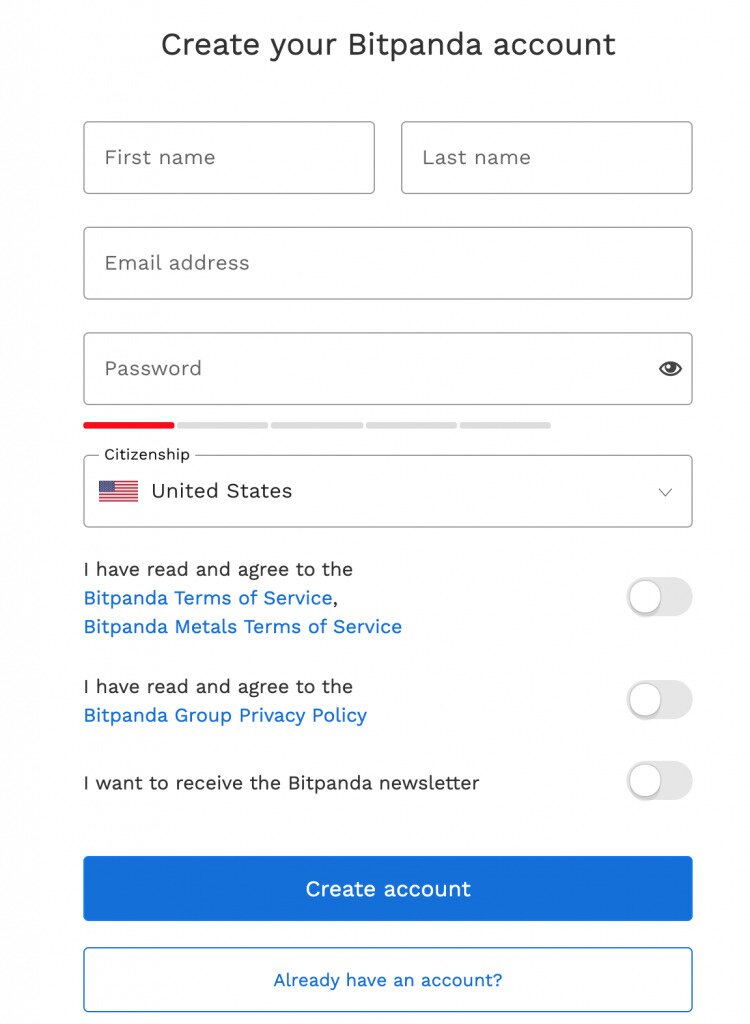 There are two levels of verification offered after you create your account: light and full. For light verification, you will need to enter your personal details and scan a copy of your government-issued ID such as a passport. The full verification process is similar, but it is only available in specific countries.
What You Can Buy
Although Bitpanda does not offer as many digital assets for trade as some of the other altcoin exchanges, the platform does have the unique offering of precious metals. Here is a small sampling of the assets that can be purchased via Bitpanda:
Bitpanda Ecosystem Token
TetherUS
Gold
Silver
NEO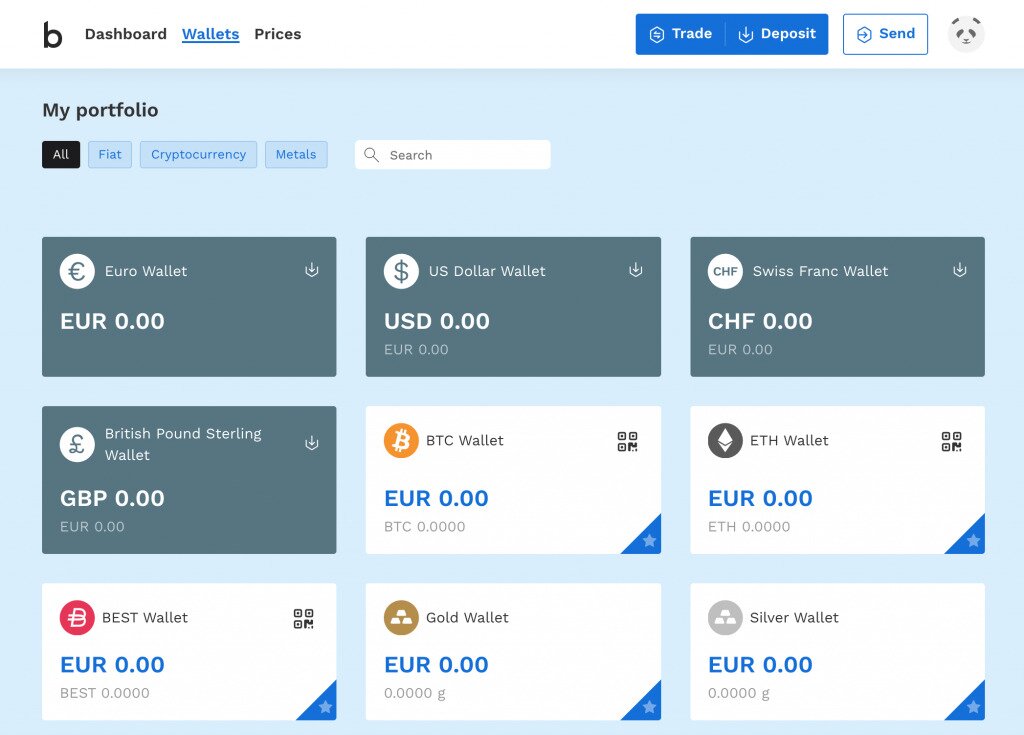 Supported Applications
Bitpanda offers a wide variation of different applications for traders. It should be noted that none of these applications allow users to hold their crypto assets in a non-custodial manner. In addition to operating on Windows, iOS, and Linux, the Bitpanda App allows users to access Bitpanda Platform from their Android devices.
Is Bitpanda Safe?
Bitpanda, being one of the most popular exchanges in the EU, is considered safe by a majority of cryptocurrency experts. The site has famously never been hacked and employs a diverse portfolio of state of the art security measures. It's especially impressive considering the company has been in operation since 2014.
Unlike some cryptocurrency exchanges, Bitpanda has shown a propensity to work with local authorities to make sure everything on the site is legit. The bottom line is that Bitpanda is a trustworthy exchange.
It's always worth mentioning that it's not a great idea to keep a large amount of cryptocurrency on an exchange. Generally, your cryptocurrency will be far more secure if you're using a personal crypto wallet.
Fees
Bitpanda's trading fees depend on the platform you are using to do your trading. On Bitpanda Global Exchange, the normal maker and taker fee model is used where fees decline as a user's trade volumes increase. A flat fee of 1.49% is used for buying on Bitpanda Platform, which is targeted at less advanced traders. Fees for precious metals start at 0.5% for buying and selling gold and rise up to 2.5% for some other precious metals. No fees are involved with the Bitpanda Swap platform, but Bitpanda is able to profit off of the differences between the buy and sell prices offered.
Fees when you buy and sell cryptocurrencies on Bitpanda's applications can be reduced by 25% when their BEST token is used as the payment method. Selling Bitcoin or other crypto for fiat is simple as well, and the fiat can be withdrawn through various providers including SEPA transfer.
Bitpanda Frequently Asked Questions
---
Bitpanda's services are not available to users in the United States.
---
Yes, you can buy gold on Bitpanda through their Metals platform. Precious metals purchased via Bitpanda are 100% insured. The gold and silver bars that physically back the assets traded on Bitpanda are held in a secure vault in Switzerland.
---
Bitpanda is mostly focused on customers based in Europe. The euro is the most commonly used currency for people based on that continent.
---
Yes, Bitpanda has been around since 2014 and is definitely a legitimate platform for trading crypto assets. Most notably, Bitpanda has never been hacked.
---
Yes, Bitcoin Cash can be purchased via Bitpanda's various trading platforms.
---
No, Bitpanda has never been hacked. Since the exchange has existed since 2014, this should be viewed in a very positive light in terms of the platform's security credentials.
---
BEST tokens are Bitpanda's own offering. Like many other exchanges, Bitpanda has launched their own token that allows its users to gain additional features. Some of the extra features enabled for BEST token holders include discounted trading fees, added perks for those who are holding the token, and access to Bitpanda Launchpad.
---
If you do not have a verified account on Bitpanda, then the functionality of the platform's various applications will be limited. Unverified users are able to use Bitpanda as a custodial wallet with free internal transactions, but buying and selling cryptocurrency will be limited. Buying cryptocurrencies won't be available at all to unverified users in some countries.
---
Currently, British Pound deposits are enabled for Bitpanda Platform. If you want to use the British Pound on the Bitpanda Global Exchange, you will first need to make a deposit via Bitpanda Platform.