>

Shakepay Exchange Comprehensive Review 2021
One of the most user-friendly exchanges
Licensed as an official Money Service Business in Canada
Incredibly fast with purchases taking minutes rather than hours
All assets on Shakepay are stored offline
Funding Methods
Bank Transfer, Debit Card
Cryptocurrencies
Bitcoin & Ethereum
Shakepay General Overview
Shakepay is one of the most friendly options when buying and selling Bitcoin in Canada

Interac e-Transfer system enables free transfers to and from Shakepay in minutes

Shakepay Change allows you to earn cryptocurrency by rounding up purchases with a debit card

It is free for customers to move their Bitcoin into a non-custodial wallet

Shakepay OTC is available to those who wish to purchase more than $200,000 CAD worth of cryptocurrency
Shakepay is currently only available to Canadians

Although Shakepay claims they do not charge any fees on buy and sell orders, the reality is fees are hidden in the quoted rates for Bitcoin and Ethereum

Cryptocurrency held in the Shakepay app is held by Shakepay rather than the individual user
Funding Methods
Method
Buy
Sell
Speed
Fees
Buying Limit
Bank Account (ACH)
No
No
n/a
n/a
n/a
Credit Card
No
No
n/a
n/a
n/a
Debit Card
Yes
Yes
Minutes
1.75%
$5,000 CAD
Wire transfer
Yes
Yes
1-2 business days
1.75%
Unlimited
Shakepay Sign-up Process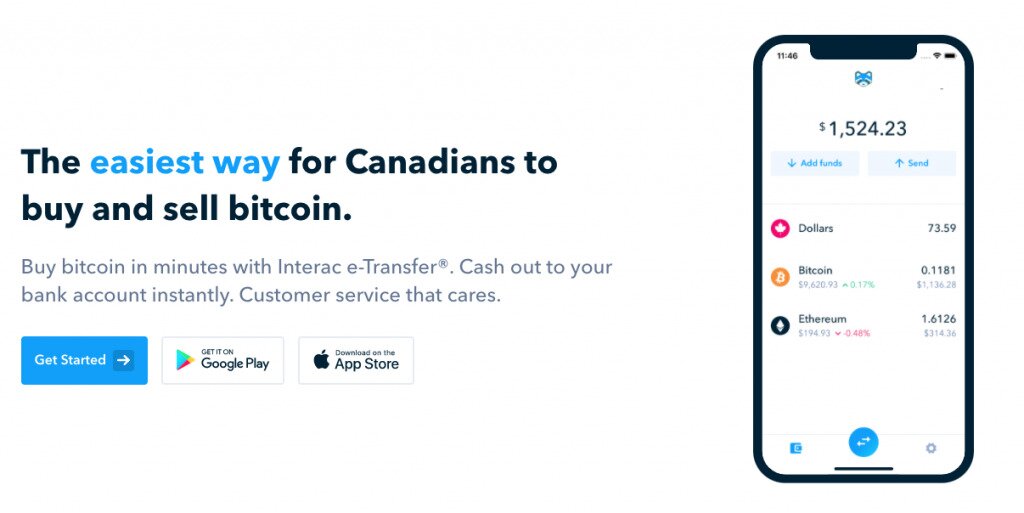 The sign-up process at Shakepay is similar to many of the other cryptocurrency exchanges around the world. During the initial sign-up process, the following information is required:
After signing up at Shakepay, you will need to verify your email address.
After your email is confirmed, you will be required to enter your mobile phone number. Your phone number will be used for authentication purposes when logging in.
After submitting your phone number to Shakepay, you will be required to complete 2-step verification by entering the code that was sent to your phone.
Once this initial information is provided, Shakepay will also need to collect some personal information to help verify your identity. This includes:
Name
Address
Date of Birth
This information will be checked against Securefact's database. While most users will be able to trade shortly after this information is provided, some users may face additional verification checks. In these situations, the user must provide two forms of documentation, in addition to a selfie.
What You Can Buy
Shakepay is currently focused on providing buy and sell functionality for the two most popular cryptocurrencies in the world.
Supported Applications
Shakepay is available on both desktop computers and smartphone devices. Desktop users of any operating system can access the exchange via their web browsers, while the Shakepay app is also available on the Google Play and iOS app stores.
Is Shakepay Safe?
Shakepay is a relatively new addition to the cryptocurrency exchange world but has been exceptionally safe thus far. One thing that Shakepay has going for it that other exchanges don't is that there is actual regulatory oversight regarding the business. Is it is licensed as a Money Service Business by FINTRAC and AMF, which are both financial regulatory bodies in Canada.
There are very few exchanges that have any sort of government oversight so Shakepay should be considered one of the safest exchanges currently in operation. Shakepay is also renowned for having exceptional customer service in case you ever run into issues with the software.
Fees
Shakepay does not charge any direct fees to their customers for buy orders, sell orders, deposits, or withdrawals. However, Shakepay makes money on the spread between the buy and sell orders made through the platform. This leads to an effective fee rate of 1.75% per trade. Additionally, users who wish to make deposits or withdrawals via wire transfers may be charged additional fees by their respective banks.
Frequently Asked Questions
---
Yes, Shakepay is currently only available in Canada.
---
There are a number of alternatives to Shakepay available in the United States, such as Coinbase, Gemini, and River Financial.
---
Yes, Interac e-Transfer will be the best option for most users as it allows funds to be sent and received in a matter of minutes. However, there is a $5,000 limit on these transactions, which means larger transfers will need to be made via bank wire.
---
Yes, Shakepay makes it very easy to move in and out of the cryptocurrency world in a matter of minutes. However, the process will take longer if you decided to move your cryptocurrency holdings to your own non-custodial wallet.
---
Shakepay Change is a special feature targeted to individuals who would like to automatically purchase a small amount of Bitcoin or Ethereum on a regular basis. The feature works via traditional credit or debit cards that are linked to user accounts. Once the card is linked to Shakepay, every purchase made with that card will be rounded up to the closest full dollar amount. The difference between the actual charge amount and the rounded amount will be used to purchase the user's cryptocurrency of choice.
---
Shakepay is located in Montreal, Quebec, Canada.
---
Shakepay's key difference between many of the other exchanges on the market is how easy it is to get started and purchase cryptocurrency in a matter of minutes. The user interface is built to look as simple as many of the other popular finance apps on the market, removing the complexities involved in some of the more advanced cryptocurrency exchanges that are available online.
---
No, Shakepay is not listed on the Toronto Stock Exchange.