>

Nexo Review 2021: Instant Loans Backed by Crypto
Easy to use, simple crypto lending platform
Fully insured, licensed & regulated
Allows customers to borrow in 45+ different currencies
Nexo Debit Card works using Mastercard technology
Products
Lending, Mastercard, Mobile Wallet
Max Interest Available
8%
Nexo Overview
Quick crypto Nexo loan process

Those earning interest receive compounding interest payouts daily

One of the best rates on the market at 5.9% APR for crypto loans

Funds are held by well-known crypto custody solutions like BitGo
Cannot earn interest on cryptocurrency deposits that aren't stablecoins

Earning Interest on stablecoin holdings are lower than on other platforms
Nexo at a Glance
Max interest available:
8%
Headquarters:
Zug, Switzerland
Proprietary credit card:
Yes
Minimum loan amount:
$500
Maximum loan amount
$2,000,000
Funding Methods
Funding Method
Deposit
Withdrawal
Speed
Bank Account (ACH)
No
No
n/a
Wire Transfer
Yes
Yes
2-5 business days
Wallet to Wallet
Yes
Yes
Nearly instant
Nexo Overview
Nexo is a crypto lending platform that focuses on services for borrowers and lenders rather than a wide array of different crypto-related features. Headquartered in Zug, Switzerland the platform has its own related token, which is also known as Nexo.
In addition to a variety of cryptocurrencies and stablecoins, Nexo also allows its users to earn interest on traditional EUR, GDP, and USD deposits. However, these assets are converted into stablecoins upon deposit.
To date, Nexo has processed more than $1 billion worth of crypto loans for more than half a million users. Although there are not many additional services offered by Nexo, their focus on user borrowing and lending allows a certain level of simplicity for the user.
In terms of safety and security, Nexo has partnered with BitGo to offer insured custody of user assets. Additionally, Nexo goes above and beyond in the area of regulatory compliance and is trusted by the likes of Coinbase and TransferWise.
Nexo also has their own token, which pays dividends to its holders and can be used to receive various discounts on the Nexo platform.
Nexo Loans
Whether you're using their website or mobile app, taking out a loan via Nexo is a rather straightforward process, and the interest rates are highly competitive.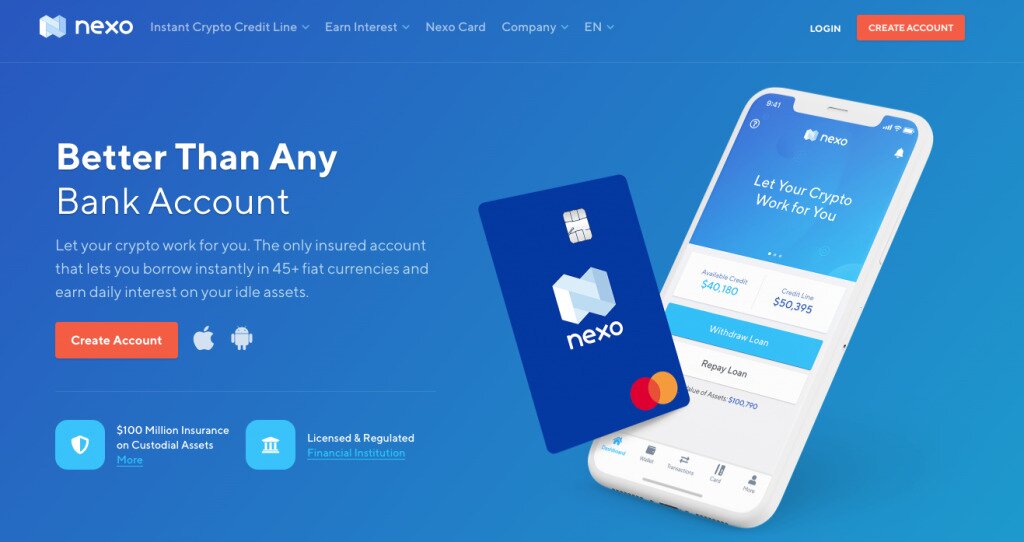 After depositing collateral onto Nexo in the form of Bitcoin, Ether, Litecoin, or one of the 21 other available cryptocurrency options, the user receives an instant, flexible credit line via a completely automated application process. This process is able to be streamlined, thanks to fact that all of the loans are overcollateralized with users' cryptocurrency holdings. Users who use NEXO tokens as collateral are able to receive a discount on their interest payments.
A user's loan money can be sent either to their bank account or added to a Nexo debit card. Rates for these loans start at 5.9% APR. There are no minimum repayments or hidden fees; however, the user's collateral will be taken by Nexo in a situation where the user does not pay back the loan in a timely manner.
The loans offered by Nexo are also available as smart contracts on the blockchain; however, there are still quite a few points of centralization involved in this process as it exists today.
The amount of money that a user will be able to borrow against their cryptocurrency deposit will depend on the specific crypto asset being put down as collateral. For example, users depositing Bitcoin or Ether are able to borrow more than 50% of the value of their collateral, while those depositing Stellar Lumens will only be able to borrow 17% of the value of their deposit. These varying loan-to-value percentages available with each asset are based on the liquidity and volatility associated with them. This way, Nexo builds a safety net for its users to guard against the potential collapse of its users' cryptocurrency holdings.
Interest Accounts
Nexo Interest Account holders are able to gain access to up to 12% APR interest on their deposits. Most Nexo interest rates are very competitive to other crypto lenders although you will find exceptions on certain cryptocurrencies. Accounts can be opened online, instantly and at no cost. Nexo Lending works by lending out your crypto to other entities and you reap the benefits. Fortunately Nexo has a track record of of using over-collateralization on their loans to avoid the risk of liquidations.
One major benefit of Nexo interest accounts is that users get DAILY compound interest on their deposits. That means you'll be generating free crypto every single day. Most crypto lending companies are only able to offer their users weekly or monthly interest payments.
It should be noted that Nexo users are unable to earn interest on all types of cryptocurrencies. Deposits to interest accounts can only be made with EUR, GBP, or USD, and the deposits are held in the form of stablecoins.
Extras
Nexo offers a Mastercard card, which allows users to gain access to their credit line around the world. The card comes with no monthly or annual fees and offers cashback rewards on all purchases. These cashback rewards can get as high as 5%.
The Nexo mobile wallet is available on the Google Play and Apple App Stores. This wallet must be used by NEXO token holders in order to access their dividend payments. The Nexo card can also be access on the Nexo mobile app.
While having the NEXO token that pays out profits to token holders is a nice addition, there is no exchange to be found on this platform. Nexo does not have many other features outside of its crypto lending platform, and Nexo Mastercard card.
History of Nexo
Nexo was created by European fintech company Credissimo, who had 10 years of experience offering instant loans to Europeans before working on their new venture in the cryptocurrency market. In the past, Credissimo was in the 2017 Top 10 Alternative Finance in European FinTech Awards and received two Forbes Business Awards in the same year. Credissimo integrated Bitcoin as an option for paying back loans in 2016.
The majority shareholders of Credissimo, who are also the founders of the company, are also majority shareholders of Nexo.
Nexo was founded in 2017, and the initial coin offering associated with the platform's token occurred in March 2018.
Nexo.io Frequently Asked Questions
---
NEXO is marketed as an SEC-compliant token, although it is not registered with the SEC. Nexo pays 30% of its company profits to NEXO token holders based on how much of the token they hold. Additionally, Nexo users can gain a number of benefits from using NEXO on the Nexo platform.
One of the discounts available to NEXO users on the Nexo platform comes when making interest payments on crypto-collateralized loans. When interest payments are made with NEXO tokens, users can gain access to a 50% discount on interest payments by using their NEXO tokens as collateral for their loan.
---
Yes, Nexo has chosen a known, well-respected custodian in BitGo to securely store users funds. BitGo has $100 million in insurance protections from Lloyd's for the digital assets they hold. This form of insurance protects users in cases of third-party hacks, insider thefts, and loss of private keys. That being said, you're always accepting some level of risk when you put your money into someone else's custody.
---
Users who wish to take out a loan on the Nexo platform are able to use BTC, ETH, LTC, XRP, BCH, EOS, XLM, PAXG, BNB, NEXO, and various stablecoins as collateral for loans. Nexo claims to have 40 applications from other companies who want coins added to the platform; however, Nexo prefers to be conservative in terms of which coins they add.
---
Getting a loan on Nexo is a five step process.
Get a Nexo account by going to https://platform.nexo.io
Deposit the crypto assets you wish to use as collateral for the loan.
Choose to do either basic or advanced verification in the "My Profile" section of your account
Click the "Withdraw Loan" button to begin the process of taking out a loan
Choose the manner in which you want to receive your loan money. You can have the money sent to your bank account, your Nexo card, or a Tether address.
---
The Nexo Card can be ordered from the Nexo mobile app. This card can make it easier to gain fast access to the money from your loan from anywhere around the world.
---
To receive dividends for your NEXO tokens, you need to do two things.
First, NEXO token holders must go through a Know Your Customer (KYC) process, for advanced verification. The information that needs to be provided here is similar to the sort of forms you would fill out when joining a bank or cryptocurrency exchange for the first time. The process is completely automated and only takes a couple of minutes in most cases.
Secondly, NEXO tokens must be held/staked in your NEXO account 10 days prior to receiving dividend payment. The specific dates are announced ahead of time.