>

The Best Cryptocurrency Exchanges to Buy Bitcoin in Finland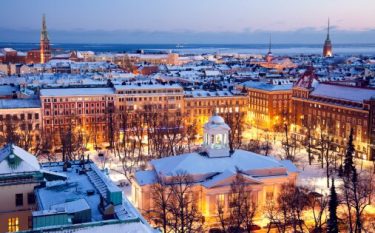 The Best Cryptocurrency Exchanges to Buy Bitcoin in Finland
Our Favorite Cryptocurrency Exchanges Available in Finland
User-friendly
Great customer service
Low services fees
Diverse and consistently updated choice of coins
Funding Methods
Debit & Credit Bank, PayPal, ACH, Bank Transfer
Trustworthy exchange
Supports many different funding options
Accepts users from across the globe
High trading volume
Funding Methods
Wire Transfer, ACH
Easy sign-up process
Lowest transaction fees of any major exchange
175+ different digital assets available
Free deposits
Funding Methods
Debit & Credit Card, Wire Transfer, ACH
Is Bitcoin Legal in Finland?
Finland was a little late to the party when it comes to regulating cryptocurrency businesses in the country. Finland's Financial Supervisory Authority (FIN-FSA) did not officially start regulating the bitcoin and cryptocurrency industry until May of 2019. This financial regulator is in charge of overseeing all of the cryptocurrency exchanges and other bitcoin-related businesses that pop up in the country. FIN-FSA is also tasked with the job of regulating the issuance of new digital assets by centralized entities, which was an extremely popular activity during the initial coin offering (ICO) bubble of 2017.
FIN-FSA's regulation of the cryptocurrency industry is based around anti-money laundering regulations that came out of the European Union. When FIN-FSA's new role as the regulator of cryptocurrencies in Finland was originally announced, the regulatory body claimed that their role will be to ensure the reliability of businesses that hold crypto assets on behalf of their customers, guard against potential loss of funds for these bitcoin bank customers, make sure that companies' own cryptocurrency funds are segregated in different accounts from their clients' holdings, oversee how cryptocurrency firms are marketed to consumers, and combat the financing of terrorism and various types of illicit commerce that could be powered by the cryptocurrency market. In other words, FIN-FSA is taking care of the regulations around the crypto market from basically every angle possible.
With the way crypto is regulated in Finland, an entity must be registered with the appropriate regulators in order to operate in a legal manner. This registration requirement could be at least partially responsible for the lack of cryptocurrency-focused businesses in Finland. While Finnish regulators have warned against all of the potential risks commonly associated with the cryptocurrency market, such as wild fluctuations in the prices of various crypto assets, the government allows companies to offer cryptocurrency trading services to residents of Finland.
In terms of taxes, bitcoin and other crypto assets are not treated as a currency or security. Instead, cryptocurrency profits are taxed on a contract basis, similar to how profits on the outcome of a contract for different (CFD) would be taxed. Like many other countries, Finland expects taxes to be collected in situations where someone buys some cryptocurrency, the value of that cryptocurrency goes up, and then the individual purchases with the now higher-valued cryptocurrency.
How To Buy Crypto in Finland
There are three main ways to buy bitcoin and other cryptos in Finland: centralized exchanges, peer-to-peer (P2P) exchanges, and bitcoin ATMs.
All of the largest cryptocurrency exchanges in the world can be accessed from Finland. Whether you're looking for a simple, brokerage-esque interface to buy bitcoin or you want an advanced trading platform to buy and sell the most niche altcoins on the market, you'll be able to find something that fits your specific needs.
P2P exchanges are a nice option if you are more interested in using cryptocurrency in the way it was originally intended, where users are sending cryptocurrency directly to each other in exchange for other goods or services. LocalBitcoins, Paxful, and Bisq are three options that will allow you to find people in Findland with whom you can trade bitcoin and altcoins on a P2P basis.
Bitcoin ATMs are an excellent option if you want to turn bitcoin into physical cash (or visa versa) as quickly as possible. According to Coin ATM Radar, there are currently 10 bitcoin ATMs throughout Finland, with 3 of those ATMs located in Helsinki. Many of these ATMs are operated by Bittimaatti, which is a crypto company based in Finland. Users of these bitcoin ATMs are able to withdraw up to EUR 5,000 in a single transaction, which is quite high when compared to the limits on bitcoin ATMs on a global basis.
What are the Best Crypto Exchanges in Finland?
The three best crypto exchanges that operate in Finland are Coinbase, Binance, and Kraken. Each of these bitcoin exchanges give their users a different experience, and picking the perfect crypto exchange for your situation will depend on a variety of factors.
If you're someone who just wants to buy some bitcoin and hold it for five or ten years in a manner that is as simple as possible, then Coinbase is probably going to be your best bet. Yes, the 1.5% fee is a bit higher than what you'd be able to get elsewhere, but you're paying for extra convenience here. Coinbase is also one of the most reputable cryptocurrency brands in the world, so you'll know that you're working with someone you can trust. If you want to go a bit deeper after your first purchase, you can always use Coinbase Pro for your future trading activities.
Binance might be a better option if you just want to trade as many altcoins as possible on a daily basis. There are low requirements for this platform when it comes to Know Your Customer and anti-money laundering regulations, so you can get started with nothing more than an email address and some bitcoin. That said, this platform does not interact with the traditional financial system, which means you're out of luck if you don't already own some bitcoin or other crypto assets that can be used for your first deposit.
Kraken is a nice balanced option when it comes to the learning curve, and it's also the home of the most liquid market for trading between bitcoin and euros. For most people, Kraken is going to be the best option in Finland and other parts of Europe due to the high level of euro-denominated bitcoin trading on the platform, and the fees are also completely reasonable. There are a number of altcoins available for trade on this platform as well, and the interface can be altered depending on your familiarity with online trading systems.
Are There Any Bitcoin Exchanges Based in Finland?
If you're looking for a cryptocurrency exchange to use that is specifically based in Finland, then you are out of luck. While it's possible an exchange based in Finland could launch in the future, you're probably better off looking for an exchange that operates on a global, or at least continential, basis because that can help you gain access to the places that have the most liquidity and help you avoid slippage on your trades. Kraken is an especially liquid exchange in terms of trading euros against cryptocurrencies, so that's a fine option for anyone based in Finland.
It should be noted that there is a bitcoin ATM operator based in Finland. The company is called Bittimaatti, and they have ten bitcoin ATMs located throughout the country. This would be the best option to go with if you're interested in giving your business to a company based in Finland; however, it's important to remember that bitcoin ATMs have much higher fees than what is available via the online trading platforms.