>

How to Buy Bitcoin in Singapore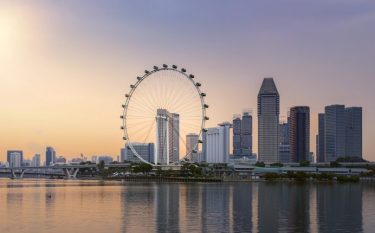 How to Buy Bitcoin in Singapore
Best Cryptocurrency Exchanges in Singapore
User-friendly
Great customer service
Low services fees
Diverse and consistently updated choice of coins
Funding Methods
Debit & Credit Bank, PayPal, ACH, Bank Transfer
Easy sign-up process
Lowest transaction fees of any major exchange
175+ different digital assets available
Free deposits
Funding Methods
Debit & Credit Card, Wire Transfer, ACH
Is Bitcoin Legal in Singapore?
Bitcoin and other cryptocurrencies are legal to use in Singapore, and the Monetary Authority of Singapore (MAS), which is the city state's financial regulator, has made it clear that they see no need to create new regulations for this emerging technology at this time. That said, it would be wise for anyone using cryptocurrencies in this jurisdiction to operate as if these new crypto assets were controlled in a manner similar to cash. In other words, you don't get to break the law just because you're using Bitcoin instead of Singaporean dollars.
The main area of regulation that people in Singapore need to worry about right now has to do with anti money-laundering requirements, which are well established in all of the major countries around the world. You will need to hand over some extensive personal data when you use an exchange. However, you're still free to operate somewhat privately when you're using this financial technology in a more peer-to-peer manner.
At the end of the day, the authorities in Singapore have no desire to regulate the underlying cryptocurrency networks. Like many other nations, they're mostly interested in making sure that there is not a lot of illegal activity happening at the exchange level. In fact, the legal environment for cryptocurrencies in Singapore is so friendly that many projects have decided to move their operations to or launch their activities within this particular jurisdiction.
What is the Best Crypto Exchange in Singapore?
There's a large number of ways in which you can get your hands on some cryptocurrency in Singapore. The vast majority of the major, global cryptocurrency exchanges operate in this country, including the likes of Binance and Coinbase. In terms of these two specific options, Coinbase is usually viewed as the preferred platform for newcomers to the space, while Binance can be used by advanced users to gain access to a wide variety of crypto assets and low trading fees.
There are also a few local options for trading Bitcoin in Singapore, including various platforms that allow users to convert their Singaporean dollars directly into Bitcoin and other cryptocurrencies. Global liquidity in the cryptocurrency markets is dominated by Bitcoin and the US dollar, so you'll tend to get better rates if you're moving from one of these two currencies into your crypto asset of choice. CoinHako allows its users to trade Singaporean dollars directly for Bitcoin at a reasonable rate, but there's really no way to get around paying a somewhat high fee when trading SGD for BTC due to the relatively low liquidity found in this particular trading pair. If you're trying to get the best deal for your first Bitcoin purchase, then stick with one of the globally-active Bitcoin exchanges that are focused on the BTC/USD trading pair.
How Can I Buy Bitcoin with Cash in Singapore?
Buying Bitcoin with cash is a preferable option to those concerned about their privacy as it allows the user to retain a large amount of their privacy during the transaction. After all, if you're trading with someone directly for cash, then you don't have to worry about turning a large amount of your own personal data over to an exchange before you make the trade.
You basically have two separate options when it comes to buying Bitcoin with cash in Singapore: Bitcoin ATMs and P2P exchanges. There are a large number of Bitcoin ATMs available in Singapore, seeing as it is a technologically advanced country that is also a financial hub. That said, it should be noted that Bitcoin ATMs usually have fees in the area of 5% to 10%, which can really cut into your profits if you're looking to day trade or gain profits by selling your holdings at a later date.
The best option for cash trades is going to be a platform like LocalBitcoins or Paxful because these platforms allow you to meet someone in person and hand them cash in exchange for their Bitcoin. If you're able to attain a high reputation on one of these platforms or the local Bitcoin community, then you will eventually be able to make your trades at close to spot price, which means the fees will be nonexistent.
It should be noted that it's generally much harder to make these sorts of trades for alternative crypto assets because they do not have as many users or anywhere near the level of liquidity seen in Bitcoin.
How Can I Buy Bitcoin with a Debit Card in Singapore?
The easiest way to get your hands on Bitcoin in Singapore is by using your credit or debit card. This is an option that is available in basically every major jurisdiction around the world at this point, and it's the easiest option for someone who wants to buy Bitcoin via a payment method they understand without having to leave the house.
Some of the options for purchasing Bitcoin with a debit card in Singapore include Coinmama, Coinbase, and crypto.com.