>

How to Buy Bitcoin in South Africa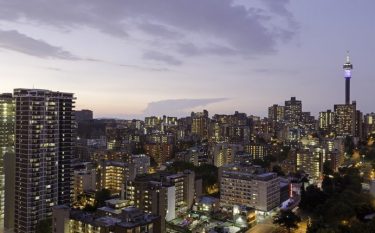 How to Buy Bitcoin in South Africa
Best Cryptocurrency Exchanges in South Africa
Easy sign-up process
Lowest transaction fees of any major exchange
175+ different digital assets available
Free deposits
Funding Methods
Debit & Credit Card, Wire Transfer, ACH
Is It Legal to Buy Bitcoin in South Africa?
Like many other countries around the world, Bitcoin has operated in a somewhat legal grey area in South Africa for quite some time. While the technology was never outlawed, it was also never explicitly approved and accepted by regulators. This trend has started to change, as in the spring of 2020 South Africa's financial regulators released a research paper on the 30 different ways in which the crypto asset space should be regulated within the country.
Thankfully, there weren't many surprises included in the paper released by the financial policy experts. For the most part, the recommendations boil down to creating a regulatory environment that is similar to most of the developed nations around the world. For example, it is recommended that crypto exchanges will be a key area of regulation where users will need to be verified before they're able to trade on the platforms. This is a common form of regulation found in places like the United States in order to prevent the use of cryptocurrency by criminals who wish to take advantage of this new technology for their own illicit financial gain.
In addition to these base policies around exchange regulation, it is also thought that South Africa will not consider Bitcoin or any other cryptocurrency as a form of legal tender. However, this does not mean that the digital asset cannot be used in everyday transactions. Instead, it means that merchants and businesses do not have a legal obligation to accept Bitcoin or any other cryptocurrency for payments.
How Do I Buy Bitcoin with Cash in South Africa?
South Africa is one of the locations around the world where people are often interested in purchasing their cryptocurrency with cash. Anyone who has been tracking the growth of various peer-to-peer Bitcoin exchanges over the years will have definitely noticed the massive growth in Africa and South America that these sorts of exchanges have experienced recently. Nearly a third of South Africans do not have bank accounts, which means the ability to conduct trade via cash-based transactions is still of the utmost importance.
The best way to purchase Bitcoin with cash in South Africa is to conduct the transaction with someone directly. After all, this sort of transaction tends to come with fees much higher than what is found on traditional, online cryptocurrency exchanges, so it's best to cut out the middleman whenever possible. There's nothing wrong with using a platform like Paxful or a Bitcoin ATM when purchasing cryptocurrency for the first time, but you'll eventually want to find alternative options that can be found via the various local Bitcoin meetup groups or Telegram groups. Bitcoin ATMs are available in the largest cities around South Africa, but these usually have fees of at least 5% associated with them.
What is the Best Cryptocurrency Exchange in South Africa?
A few of the major, global cryptocurrency exchanges are available from South Africa; however, Luno is generally viewed as the best option for buying Bitcoin or Ethereum in this country. While you will not be able to purchase some of the more niche tokens via this marketplace, Luno can be used as your gateway to the entire cryptocurrency ecosystem via a direct connection with your bank account. This is not an exchange that only focuses on South Africa, but they do tend to focus on the African and South Asian markets more than anywhere else.
You will need to verify your account if you're going to be trading large volumes via Luno, but the good news is that fees on this platform are extremely low. In fact, there are no fees for making deposits and withdrawals on Luno.
If you're interested in trading coins other than Bitcoin and Ethereum, then you may want to create a Binance account in addition to your Luno account. Once you purchase some Bitcoin via Luno, you can then transfer it to Binance to use it as the base currency of your trading on that secondary platform.
Can I Buy Ethereum with a Credit Card in South Africa?
Buying Bitcoin and other cryptocurrencies via a credit card in South Africa can be a tricky proposition. First of all, you will generally find that platforms that offer this feature will only allow you to purchase Bitcoin. Having said that, this isn't too much of a problem, as you can always trade that Bitcoin for an altcoin quite easily if you so desire. Another issue is that the fees for this sort of transaction tend to be very high. It is recommended that you connect your bank account to an exchange like Luno or Kraken to purchase your cryptocurrencies rather than using a credit card due to these high fees. Credit card-based trades also tend to have pretty low limits, which means you won't be able to do a lot of buying on a regular basis if you're someone who is making large-value transactions.
Despite all of these issues, there are still some situations where buying Bitcoin or Ethereum with a credit card in South Africa will be your only option. If that's the case, then Coinmama will be a valuable option, as they're available in almost every country around the world.