>

How to Buy Bitcoin in Sweden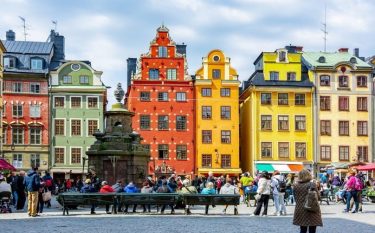 How to Buy Bitcoin in Sweden
Best Cryptocurrency Exchanges in Sweden
User-friendly
Great customer service
Low services fees
Diverse and consistently updated choice of coins
Funding Methods
Debit & Credit Bank, PayPal, ACH, Bank Transfer
Trustworthy exchange
Supports many different funding options
Accepts users from across the globe
High trading volume
Funding Methods
Wire Transfer, ACH
What is the Legal Status of Bitcoin in Sweden?
Every country's lawmakers and regulators must come to their own conclusions when it comes to how to deal with Bitcoin. Some have taken a hard stance and banned certain aspects of the technology, while others are allowing innovation to take place before deciding what to do. It appears that Sweden has taken the latter of these two main strategies, at least up to this point.
There hasn't been any legislation in Sweden related to cryptocurrencies until now, but that does not mean that the sector is completely unregulated. Indeed, the laws of the traditional world have basically been used as the key areas of regulation for Bitcoin in Sweden so far. This means that the government is going to do as much as it can to make sure that there isn't a tremendous amount of money floating around the economy without some sort of identity attached to it.
Additionally, Sweden follows the various anti money-laundering directives that come from the European Union, the most recent of which included specific provisions for cryptocurrencies. But again, most of these regulations are focused around making sure exchanges are not allowing users to move large amounts of money in an anonymous manner.
In terms of taxes, it should be obvious that you will have to pay capital gains taxes on profits made from the buying and selling of Bitcoin, Ether, and other digital currencies. That said, you don't have to worry about value added taxes, as they do not apply to cryptocurrencies.
In short, cryptocurrencies are very much legal in Sweden; however, they are also regulated in a manner similar to how other forms of money are regulated.
How Do I Buy Cryptocurrency in Sweden?
There are a few different ways you can buy cryptocurrency in Sweden. The most common way this crypto asset is traded around the world today is via the various centralized crypto exchanges that allow liquidity to be gathered in a single location. There are at least eleven different exchanges to choose from in Sweden, so you'll have plenty of options to consider.
When you sign-up for one of these exchanges, you'll want to make sure that you do everything you possibly can to secure your account. There have been a large number of exchange hacks over the years, but it is even more common for individual user accounts to be hacked instead. If someone gains access to your cryptocurrency trading account, then they'll be able to send all of your crypto assets to their own cryptocurrency addresses. Since cryptocurrency networks involve transactions that are inherently irreversible, there will be no one you can call for help if a hacker steals your coins. Before you start trading on a cryptocurrency exchange in Sweden, make sure you activate a form of two-factor authentication on your account. And, even more important, get a cryptocurrency wallet.
What is the Best Cryptocurrency Exchange in Sweden?
Three of the most popular options for trading cryptocurrency in Sweden are Coinbase, Kraken, and Safello.
Coinbase may be the most well-known brands in the cryptocurrency space at this point, and it doesn't need much of an introduction. This will likely be the best place to start for most people in developed nations around the world, as they make it at easy as possible to gain access to your first Bitcoin within a sleek user interface. There are two different ways you can use Coinbase: in their default brokerage mode and in their pro version. Coinbase Pro comes with lower fees, but it's aimed at more advanced traders who know what they're doing.
Kraken is another well-known brand in the cryptocurrency space, especially in Europe. If you're looking to get into Bitcoin and avoid all of the thousands of other tokens for now, then this will be your best bet. This exchange offers the most liquid version of the BTC/EUR trading pair, which means it's the place to be if you're starting with euros in your bank account.
Safello is not a well-known name outside of Sweden, but it's been operating from the Nordic country since the earliest days of Bitcoin exchanges. This exchange's focus on the Swedish market makes it another interesting option for people who are trying to buy some Bitcoin for the first time. Safello supports a wide variety of payment options that are popular in Sweden.
How Can I Buy Bitcoin Privately in Sweden?
If you want to retain some privacy with your Bitcoin trades, then you'll need to stay away from the exchanges. This is because all of the major exchanges force you to hand over large amounts of personal data. Exchanges are forced to put their users through strict verification procedures to comply with various anti money-laundering laws in different jurisdictions around the world.
To retain more privacy, you should try to exchange some cash for Bitcoin directly with another Bitcoin enthusiast. There are a number of P2P exchanges that you can use as a starting point for this sort of activity, such as Paxful. Additionally, getting involved with your local Bitcoin meetup events  and conferences will allow you to meet people who will trade with you directly in exchange for cash. Bitcoin ATMs are another option, but they tend to require nearly as much personal data as exchanges these days.