>

Buying Bitcoin in the Netherlands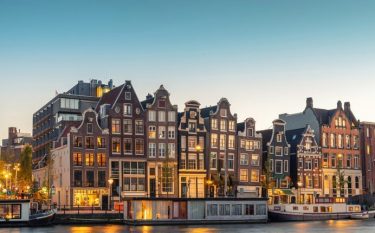 How to Buy Bitcoin in Netherlands
Best Cryptocurrency Exchanges in Netherlands
User-friendly
Great customer service
Low services fees
Diverse and consistently updated choice of coins
Funding Methods
Debit & Credit Bank, PayPal, ACH, Bank Transfer
Trustworthy exchange
Supports many different funding options
Accepts users from across the globe
High trading volume
Funding Methods
Wire Transfer, ACH
Is Cryptocurrency Legal in the Netherlands?
Like many of the other major countries in Europe, individuals are free to use Bitcoin and other cryptocurrencies without having to worry about facing any sort of complications from the law. The laws around Bitcoin and other cryptocurrencies in the Netherlands have been clear for a good number of years at this point, and the country boasts a vibrant community of cryptocurrency supporters who are interested in this technology for both financial and philosophical reasons.
Having said all that, there has been a clampdown on exchanges that were not collecting enough information about their users in this country. Relatively new anti-money laundering regulations have made it more difficult for smaller platforms to comply with the law, which means there have been a number of avenues for purchasing Bitcoin in the Netherlands that have disappeared in 2020. While this might seem to have a negative impact on the crypto market in the Netherlands, it's important to remember that extensive checks on users have become mandatory in most developed nations around the world. It's likely that this trend will continue until all of the exchanges in the world are forced to collect large amounts of data on their users.
What is the Cheapest Way to Buy Bitcoin in the Netherlands?
In terms of cheap options for purchasing Bitcoin in the Netherlands, three of the best options for anyone are going to be Coinbase Pro, Bitstamp, and Kraken. These three exchanges have comparable rates when it comes to the fees that are associated with each trade, although these platforms may be a bit too complicated for individuals who just want to click a button that says "Buy Bitcoin" without having to worry about features aimed at more advanced traders.
While most users just think about fees before anything else when it comes to trading cryptocurrency for a low cost, the reality is that you also need to think about other factors such as trading pairs and liquidity. After all, if you're starting with euros, then trading on an exchange that is focused on US dollars will actually lead to higher fees because you will have to trade your euros for dollars before you're able to gain access to Bitcoin or any other cryptocurrency. In terms of liquidity, Kraken is the king of the BTC/EUR market, so users who are starting with euros may want to create an account on that platform first.
How Can I Buy Bitcoin Anonymously in the Netherlands?
As mentioned previously, exchanges in the Netherlands have recently been forced to take on much more responsibility when it comes to collecting data about their users and making sure that their platforms are not being used for illegal activity. But, of course, Bitcoin and other cryptocurrencies were originally intended to operate in a completely peer-to-peer manner. After all, there's nothing stopping you from finding someone on the street who has some Bitcoin and trading your cash in hand for their cryptocurrency.
If you want to retain a higher level of privacy when conducting your Bitcoin and crypto asset trades, then you'll want to look at options like Paxful and Mycelium Local Trader. Bisq is another option for those who wish to attain the highest possible level of privacy in online trades; however, the platform tends to have low liquidity. LocalBitcoins used to be the king in this market, but in recent years, they've added more requirements in terms of the data they collect from their users. Of course, the best option would be simply to find someone you know who has some cryptocurrency, as a best case scenario does not involve the use of a third-party platform of any kind. Additionally, you should always remember that the person you are trading with also has the ability to attach any information you provide them with to the cryptocurrency address that you use for the trade.
It should also be mentioned that there are some traditional, global exchanges, such as Binance, that have low Know Your Customer requirements if a user is not trading large amounts of cryptocurrency on a regular basis.
How Do I Buy Cryptocurrency with a Credit Card in the Netherlands?
In Europe, there are a large number of different options in terms of buying Bitcoin with a credit or debit card. When it comes to finding a trusted, reliable source for this type of transaction, it's difficult to beat Coinbase, which may have the most respected name in the entire cryptocurrency exchange industry. If you're going to purchase Bitcoin via a credit card in the Netherlands, it should be pointed out that there are some restrictions that go along with this form of payment. Namely, you're going to be facing lower limits in terms of how much cryptocurrency you can purchase on a monthly basis when using a credit card. Additionally, purchases made via credit cards come with much higher fees than what would be found when using a traditional exchange.