>

How to Buy Bitcoin in Nigeria: Complete Cryptocurrency Guide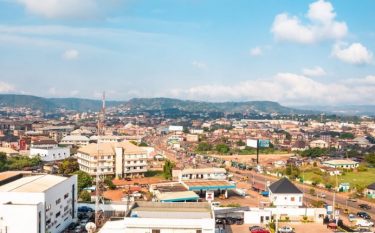 How to Buy Bitcoin in Nigeria: Complete Cryptocurrency Guide
Best Bitcoin Exchanges in Nigeria
Trustworthy exchange
Supports many different funding options
Accepts users from across the globe
High trading volume
Funding Methods
Wire Transfer, ACH
Easy sign-up process
Lowest transaction fees of any major exchange
175+ different digital assets available
Free deposits
Funding Methods
Debit & Credit Card, Wire Transfer, ACH
Is Bitcoin Legal in Nigeria?
While various lawmakers and regulators in Nigeria have warned against the potential dangers of bitcoin and other cryptocurrencies, these crypto assets are still technically legal in the African country. That said, bitcoin (and every other cryptocurrency for that matter) is not recognized as legal tender in Nigeria. The cryptocurrency remains mostly unregulated at this time, and the citizens of Nigeria are able to trade a variety of crypto assets at a number of different exchanges.
While no new laws or regulations regarding Bitcoin have been passed in Nigeria, the Nigerian Securities and Exchange Commission has let the public know how they are currently thinking about regulating this new area of digital finance. It should be noted that these are currently the ways in which the regulatory body is thinking about bitcoin and these guidelines have still not yet been signed into law. For now, the commission is thinking of regulating bitcoin and other crypto assets as commodities. Additionally, businesses operating in the cryptocurrency space will need to get regulatory approval from the Nigerian government before launching their businesses.
While the guidelines offered by the Nigerian SEC are a step in the right direction, a large amount of regulatory uncertainty still exists in the country. This is likely to persist until real laws are passed in the country regarding bitcoin; however, the average person who is just using bitcoin in their daily life as a currency or speculative investment likely has nothing to worry about at this time.
How Do I Buy Bitcoin in Nigeria?
Due to the high level of adoption of bitcoin and other crypto assets in Nigeria outside of their use as speculative price bets, there are a large number of different of options to choose from when it comes to buying and selling cryptocurrencies in this country. Whether you're looking for the cheapest price on a highly liquid exchange or you prefer to do your trading in a more peer-to-peer (P2P) manner, you have plenty of options to choose from in Nigeria.
P2P trading was already popular in Nigeria before bitcoin even existed due to things like M-PESA and mobile minutes. The infrastructure that was built around these kinds of P2P traders has now integrated bitcoin and other cryptocurrencies as well, so this is a good place to start if you are looking for a network of bitcoin users that you can trade crypto assets with on a regular basis. Paxful has become an extremely popular option for trading crypto P2P in the country, but you can also search for Bitcoin meetups in the most populous cities in Nigeria.
As an extension of the P2P bitcoin trading market, there is also a Bitcoin ATM available in Lagos at Dazey Lounge and Bar. Notably, the buy and sell fees at this Bitcoin ATM are only 5%, which is rather low by global standards.
What are the Best Cryptocurrency Exchanges in Nigeria?
Despite the relatively low level of banking adoption in Nigeria, there are a number of different online cryptocurrency exchanges to choose from in this country. Yes, you can access the global exchanges like Kraken and Binance if you wish, but there are also some options focused specifically on the Nigerian or African market that may be a better fit for some users.
Luno is an exchange that has dumped a lot of resources in Nigeria and South Africa. Most notably, the exchange does not charge any fees for those who are on the maker side of a trade, which means they are the one who initially offers the trade on the market. Fees also only rise to a peak of 1% on the taker side of the trade. There is also an Instant Buy feature for users who wish to use a simpler interface and not get involved in an advanced trading engine. That said, this platform only supports Bitcoin and Ether at this time, so traders looking for more niche crypto offerings may want to opt for something like Binance instead. If you want to look at an alternative to Luno that is somewhat similar, you can also look into NairaEx. Notably, NairaEx offers a stablecoin that is tied to the Nigerian naira.
Most cryptocurrency users will find Luno to be the best option for online trading in Nigeria, but BitPesa deserves a mention as well due to their focus on simplicity and customer support. You can use a debit card or a Paga account to purchase bitcoin via BitPesa.
Why Should I Use Paxful in Nigeria?
As mentioned previously, Paxful has become one of the most popular cryptocurrency trading platforms in Nigeria due to the company's heavy focus on the African and Southeast Asian markets. While LocalBitcoins was by far the most popular P2P cryptocurrency exchange on the market in the early days of Bitcoin, Paxful has seen tremendous growth due to their focus on emerging markets like Nigeria. The P2P bitcoin exchange began seeing high levels of growth in 2019, and a large percentage of that growth came from Africa with Nigeria leading all other countries on the continent into the cryptocurrency ecosystem. As of late 2020, it was estimated that 620,000 of Paxful's active users were based in Nigeria.
Paxful is a tremendous option for trading bitcoin in Nigeria due to the use of a large number of different payment options. No matter what sort of currency or asset you're starting with in your possession, you should be able to turn it into bitcoin rather quickly by taking a look at the market of active traders in the country. There are hundreds of different payment options that can be used on the platform, including Nigeria-specific options like Bitsika and Carbon. Notably, Paxful also allows its users to gain exposure to the US dollar via its integration with the Tether stablecoin.
To get started with Paxful, you just need to set up an account via the platform's homepage or mobile app. You will then want to verify as much information as possible about yourself to gain access to as many of the other users' trade offers as possible.