>

How to Buy Bitcoin in South Korea: Complete Cryptocurrency Guide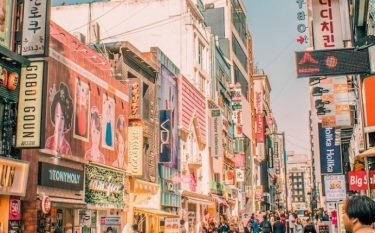 How to Buy Bitcoin in South Korea: Complete Cryptocurrency Guide
Best Bitcoin Exchanges in South Korea
Trustworthy exchange
Supports many different funding options
Accepts users from across the globe
High trading volume
Funding Methods
Wire Transfer, ACH
Easy sign-up process
Lowest transaction fees of any major exchange
175+ different digital assets available
Free deposits
Funding Methods
Debit & Credit Card, Wire Transfer, ACH
Is Bitcoin Legal in South Korea?
There was some legal uncertainty around bitcoin and other cryptocurrencies when they first came to prominence in South Korea back in 2017. In fact, there were even talks of implementing some restrictions on the use of Bitcoin in South Korea around this time. That said, the government eventually passed a number of laws that were somewhat favorable to the cryptocurrency industry after the public made it clear that they want to get involved in this new financial revolution.
The most noteworthy regulation to worry about when it comes to using Bitcoin in South Korea is that users of cryptocurrency exchanges must have a real name attached to their accounts. Additionally, the name used on the cryptocurrency exchange account must match the name associated with the bank account attached to the crypto exchange account. Cryptocurrency exchange users must also use a bank account at a bank where the exchange also has a bank account. This law was put into action on January 30, 2018.
On top of these regulations regarding the use of real names and specific bank accounts, cryptocurrency exchange users must also go through all of the normal Know Your Customer and Anti Money-Laundering practices that are found on all of the major exchanges around the world.
It should also be noted that South Korea has placed restrictions on the trading of various privacy-focused cryptocurrencies such as Monero and Zcash.
How Do I Buy Bitcoin in South Korea?
Due to the clear regulations around bitcoin and cryptocurrencies in South Korea, there are a large number of different options to look at when you want to buy your first bitcoin. Centralized exchanges are the most commonly used option for buying cryptocurrencies today, and there are both global and domestic bitcoin exchanges to choose from in South Korea. However, it should be noted that Coinbase, which is one of the most well-respected exchanges in the world, does not currently operate in South Korea.
While Bitcoin ATMs were rather popular in South Korea at one time, they are no longer allowed to operate in the country due to the need to track the cryptocurrency purchases made by South Korean citizens. Of course, you can still go the peer-to-peer (P2P) route if you wish to limit the amount of information you are sharing about yourself every time you purchase some cryptocurrency.
All of the P2P exchanges, such as Paxful and LocalBitcoins, operate in South Korea. Of course, it should be noted that these P2P exchanges oftentimes come with higher fees and friction due to the nature of these types of transactions.
What Are the Best Crypto Exchanges in South Korea?
You basically have two main categories to choose from when it comes to cryptocurrency exchanges in South Korea: the global exchanges and the exchanges that only operate in South Korea. In most places around the world, a domestic exchanges is going to be a better option than plugging into one of the large exchanges that operates on a global basis.
However, it should be noted that many of the exchanges have had serious issues with security over the years. Although it has not yet been definitively proven, it is thought that North Korea has been behind many of the exchanges hacks that have taken place in South Korea. If you are someone who wants to avoid the exchanges based in South Korea due to the security issues they've faced in the past, then you may want to look into Kraken and Binance as your two best options.
Those of you who want to stick with domestic options that offer unique features like KRW trading pairs will want to look at Korbit as your first choice. This is the oldest and most popular exchange in South Korea, and the fees are extremely low. Additionally, it should be noted that, unlikely many other exchanges in the country, Korbit has never been hacked, so the potential attacks from North Korea and other hackers are less of a concern with this exchange.
Is Bitcoin More Expensive in South Korea?
When the prices of all cryptocurrencies were going crazy in 2017, the prices of these crypto assets were becoming particularly wild in South Korea. In fact, the USD-denominated price of bitcoin and other cryptocurrencies was, at times, 40% higher than anywhere else in the world. This became known as the Kimchi Premium, and although it does not exist anymore, it was a major point of conversation in the cryptocurrency community during this time.
Usually, traders are able to move funds between different cryptocurrency exchanges around the world in order to take advantage of arbitrage opportunities created by differences in the bitcoin price on various exchanges. However, laws regarding the movement of funds out of South Korea by citizens within the country made it difficult to take advantage of these arbitrage opportunities at the time.
There is a cap on the amount of money a South Korean citizen can move out of the country per year, and they also have rather strict laws when it comes to the prevention of money laundering. South Korea was also accounting for a large percentage of global crypto trading at this time, so the bitcoin frenzy going on in the country at the time was affecting the crypto markets all over the world.