>

How to Buy Bitcoin in Switzerland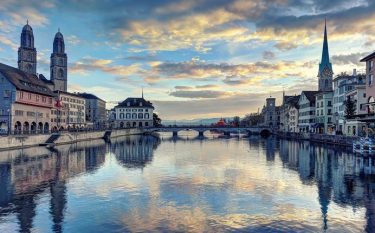 How to Buy Bitcoin in Switzerland
Best Cryptocurrency Exchanges in Switzerland
User-friendly
Great customer service
Low services fees
Diverse and consistently updated choice of coins
Funding Methods
Debit & Credit Bank, PayPal, ACH, Bank Transfer
Trustworthy exchange
Supports many different funding options
Accepts users from across the globe
High trading volume
Funding Methods
Wire Transfer, ACH
Is Bitcoin Legal in Switzerland?
Switzerland's stance on Bitcoin has made it one of the major hubs of cryptocurrency activity around the world. While the crypto businesses operating in the country obviously need to keep tabs on their users to make sure the platforms are not being used for illicit financial activity, the government is generally very accepting of the concept of Bitcoin and cryptocurrency overall. In addition to following various guidelines related to anti money-laundering regulations, there are some situations where exchanges and other Bitcoin-related businesses in the country must obtain a banking license in order to operate legally.
While the federal government in Switzerland was looking at the potential for creating new laws around Bitcoin as far back as 2013, they realized that there was no need to create new regulations for this new form of digital money. Instead, like many other jurisdictions around the world, the Swiss government decided to apply many of the existing rules around other forms of money to crypto assets like Bitcoin.
The Swiss government is so accepting of the revolution known as Bitcoin that some local governments, such as Zug, even allow for cryptocurrency to be used to pay for fees and other government-related costs. Swiss Federal Railways even sell Bitcoin at the machines that are used to sell train tickets.
How Do I Buy Bitcoin from Swiss Federal Railways?
The ability to purchase Bitcoin via the ticket kiosks at train stations associated with Swiss Federal Railways was originally announced back in 2016. There are more than 1,000 of these kiosks around the country, and these allow anyone to purchase Bitcoin in a manner similar to the various Bitcoin ATMs that have popped up around the world. While it's incredible that this Swiss government-owned railway company has decided to enable the purchase of Bitcoin via their kiosks, it should be noted that the amount of Bitcoin customers can obtain at one of these kiosks is rather limited. Additionally, you cannot currently purchase a train ticket directly with Bitcoin.
To purchase Bitcoin at one of these kiosks, you will need to go to the section of the app on the kiosk screen dedicated to alternative purchases. You will then be able to "top up" your Bitcoin account. The kiosk machine will scan a Bitcoin address via a QR code on your mobile phone. You will then choose how much Bitcoin you would like to purchase, and the machine will then ask you to insert the amount of Swiss francs associated with your Bitcoin purchase amount. There is a roughly 6% fee charged on these transactions, which is somewhat reasonable for a Bitcoin ATM. This initiative from Swiss Federal Railways has effectively established multiple Bitcoin ATMs in every city throughout Switzerland. It should be noted that only Bitcoin can currently be purchased via these machines, as altcoins like Ethereum are not offered for sale.
How to Buy the Bitcoin ETP in Switzerland
One of the most unique ways to purchase Bitcoin in Switzerland is via the Bitcoin ETP known as Bitcoin Capital Active ETP. This is an exchange-traded product that is managed by Bitcoin Capital, and it is backed by the top 15 digital assets on the market at any one time. You can purchase this exchange-traded product through your bank or broker, much like you would purchase any other form of stock. The ticker symbol for this asset is BTCA. There is a 2% annual management fee associated with this product, which is something to keep in mind if you're someone who is looking for low fees. While this is a neat product for beginners, those who are more familiar with trading cryptocurrencies can find much cheaper options by connecting their bank account to one of the largest cryptocurrency exchanges in the world such as Coinbase or Kraken.
What is the Best Cryptocurrency Exchange in Switzerland?
One of the most popular options for purchasing Bitcoin and other cryptocurrencies in Switzerland is Coinbase. On this platform, you can go through the normal, brokerage interface for beginners or you can decide to use the more advanced exchange platform known as Coinbase Pro. The default platform is much easier for beginners to get started and purchase their first crypto assets, but Coinbase Pro has much lower fees for those who already know what they are doing.
If you're looking to stick with Swiss francs and not convert your fiat currency into US dollars or euros before trading, then you'll want to take a closer look at Bity. With this platform, you will be able to make thousands of dollars worth of trades without any sort of intensive verification over your identity. Of course, you will then need to go through a quite extensive verification process if you would like to keep trading once you've reached your limit. In addition to their exchange platform, Bity also operates five different Bitcoin ATMs around Switzerland.
Two other options worth checking out are Kraken and Bitstamp, both of which are extremely popular in the overall European region.