>

How to Buy Bitcoin in Vietnam: Complete Cryptocurrency Guide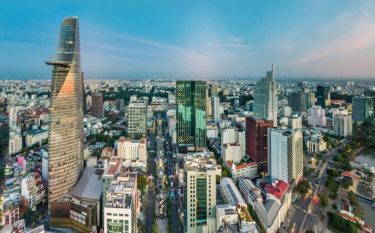 How to Buy Bitcoin in Vietnam: Complete Cryptocurrency Guide
Is Bitcoin Legal in Vietnam?
The regulatory situation around bitcoin and other cryptocurrencies in Vietnam is rather complex. There have been rumors of everything from digital currency bans to a complete embrace of bitcoin over the years, but neither of these extreme positions are actually true.
The most notable form of cryptocurrency regulation in Vietnam is that it's actually illegal to use any form of cryptocurrency as a payment mechanism. While it is completely legal to trade cryptocurrencies or hold bitcoin as a long-term investment, the Vietnamese government does not want to allow any other currencies or assets to compete with the Vietnamese dong as the main form of currency in the country. Those who are found to use bitcoin or any other cryptocurrency as a form of payment within Vietnam can face a fine of up to 200 million Vietnamese dong, which is worth around $9,000.
The Vietnamese government has been looking at various regulations they could implement around Bitcoin since at least 2017, but they have yet to pass serious legislation regarding cryptocurrencies. In 2020, multiple regulatory agencies joined a research group put together by the Vietnamese Finance Ministry to figure out the specific regulations that should be put in place around the cryptocurrency industry.
It should be noted that the regulations around the taxation of bitcoin in Vietnam remain unclear as of 2021. While a working group is supposed to define the tax guidelines around cryptocurrencies, the specific taxes that cryptocurrency users must pay have not been explained at this time. That said, this should not be viewed as proof that bitcoin users have no obligation to pay taxes in Vietnam. It would be wise for anyone living in Vietnam to ask a tax professional for advice on this matter. Additionally, cryptocurrency users should remain up to date on the latest changes around tax laws.
How to Buy Bitcoin in Vietnam
Bitcoin and other cryptocurrencies can be bought in Vietnam via online exchanges, peer-to-peer (P2P) exchanges, and Bitcoin ATMs. Each of these options come with their own lists of pros and cons, and new cryptocurrency users will need to decide how they wish to interact with the bitcoin ecosystem.
While P2P exchanges are at least somewhat popular all over the world, Vietnam is unique in that it has its own, domestic P2P exchange. Those who are interested in trading P2P can still use the well-known, global exchanges like Paxful and LocalBitcoins, but Ginero is a relatively new entrant into the market that is only focused on providing services for people living in Vietnam. Ginero is run by Bitcoin Vietnam, which is perhaps the most reputable bitcoin exchanges in all of Vietnam. While it's not the easiest platform to use, Ginero offers a rare combination of enhanced privacy and relatively low fees to its users.
According to Coin ATM Radar, there are eight Bitcoin ATMs that can be used in the entire country of Vietnam, and all of these machines can be found in Ho Chi Minh City. The defining features of these Bitcoin ATMs vary, so it's important to look at the cryptocurrencies they offer, the rates they charge, and their hour of operation before heading towards them. That said, some of these Bitcoin ATMs are available 24 hours a day and 7 days per week. These machines can be an excellent option if you need to convert between Vietnamese dong and bitcoin or another cryptocurrency in a hurry without going through an identification check. Of course, it should always be remembered that Bitcoin ATMs have much higher fees than the online exchanges.
What is the Best Bitcoin Exchange in Vietnam?
The general consensus in Vietnam is that Bitcoin Vietnam is the best cryptocurrency exchange in the country. Due to regulations, many of the well-known global exchanges cannot be accessed from Vietnam, but the domestic exchanges are more than capable of handling the needs of the locals. Bitcoin Vietnam has a number of partnerships with the other major exchanges around the world, so users are still able to access global liquidity in the cryptocurrency markets. Bitcoin Vietnam also offers an over-the-counter trading (OTC) option for users who want to move large amounts of money into or out of the bitcoin market.
If you'd like to look at multiple options before signing up for an online exchange, then you can also look into VBTC, which is also focused on the Vietnamese market. While Bitcoin Vietnam is more focused on customer support and helping the newcomers purchase their first bitcoin, VBTC is a better option for advanced traders who may be interested in more advanced order types.
How to Buy Bitcoin with Cash in Vietnam
If you want to turn physical Vietnamese dong into bitcoin or another cryptocurrency, then your two best options would be to use either a P2P exchange or a Bitcoin ATM. In terms of P2P exchanges, your three best options will be Paxful, LocalBitcoins, and Ginero. While Ginero was built specifically for the Vietnamese market, there is still plenty of liquidity found on Paxful. Additionally, Paxful can open up the opportunity to trade on a global basis.
For many people, gaining a higher degree of privacy and anonymity is a key reason to purchase bitcoin and other cryptocurrencies with physical cash. With this in mind, there may be no better option than purchasing bitcoin via a Bitcoin ATM operated by Bitcoin Vietnam. This is an extremely reputable brand in the country, and they operate two Bitcoin ATMs in Ho Chi Minh City. There are no identity verification requirements for using these Bitcoin ATMs, and users are able to purchase up to $5,000 worth of bitcoin in a single transaction. In terms of purchasing bitcoin anonymously, this is perhaps the best option in the entire world.