Bitcoin Outperforming Stock Market Amid Coronavirus Concerns
Bitcoin is notoriously volatile, or so say its detractors in the legacy financial system. Still, while it has taken a beating from the coronavirus in recent weeks, Bitcoin is in fact outperforming the Dow Jones and S&P 500 this year. And by a comfortable margin.
Data from cryptocurrency research firm Messari reveals that, in the year to date, the Dow Jones Index has lost 21% of its value, while the S&P 500 has declined by 18%. Meanwhile, Bitcoin has risen by 1%, which may not be much, but is nonetheless impressive given that both crypto and the stock market faced a coronavirus-caused bloodbath in early March. Not only that, but other cryptocurrencies have risen even more in the year-to-date than Bitcoin.
And as the impending coronavirus recession deepens in the coming months, Bitcoin and other cryptocurrencies are likely to do a better job of storing value than the stock market, which is too heavily tied to the performance of specific companies.
Coronavirus Hits Stock Market Hard
On April 6, Messari tweeted that Bitcoin is outperforming the S&P 500 in the 12 months to the present.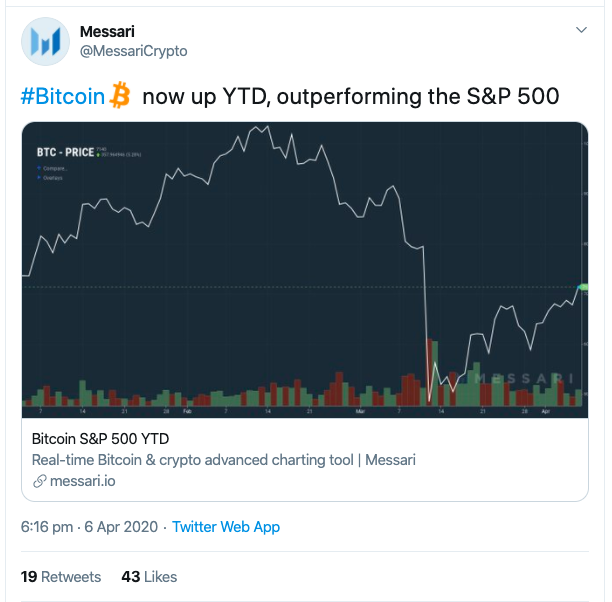 Source: Twitter
In fact, if you take a look at Messari's website, you can add the Dow Jones' price to its comparison chart, revealing that Bitcoin is outperforming both U.S. stock markets in the year to date.
Source: Messari
And the good news for crypto doesn't stop there, because other major cryptocurrencies have done even better than Bitcoin over the past 12 months.
Messari's data reveals that XRP has risen by 1% in the year to date, like Bitcoin. EOS has risen by 4%. Meanwhile, Litecoin has risen by 10%, while Ethereum has jumped by an impressive 30% over the last 12 months.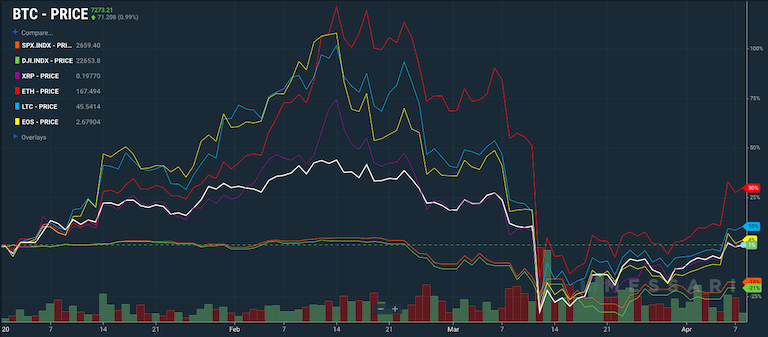 Source: Messari
In other words, things are looking good for crypto in comparison to the U.S. stock market. And when you follow prices over more recent timescales, the figures also weigh in crypto's favour.
Over the past three months, the S&P 500 has fallen by 18% and the Dow has fallen by 21%. By contrast, Bitcoin has dropped by 'only' 11%, while Ethereum has actually risen by 18%.
And since March 23, when the Dow Jones began an important recovery from a low of 18,591, Bitcoin and Ethereum have still both outperformed it (and the S&P 500). Bitcoin has risen by 24% since then, compared to 22% for the S&P 500 and 23% for the Dow. Meanwhile, Ethereum has risen by 36%.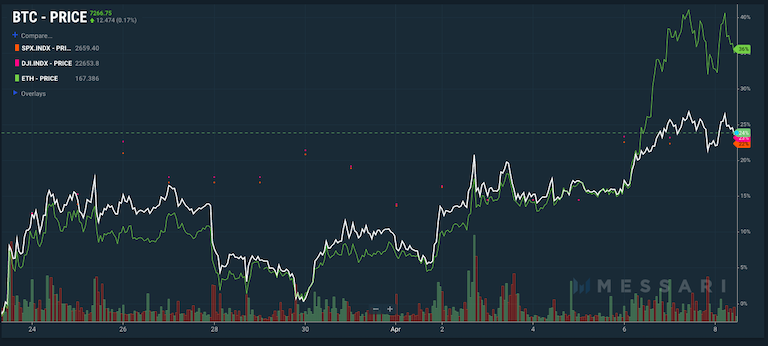 Source: Messari
So while the global economy is almost certainly gearing up for a major recession, the cryptocurrency market is doing a better job than the U.S. stock market of storing value.
Crypto Still Connected to Traditional Markets

As we've written, Bitcoin and crypto may be more insulated from the effects of a coronavirus-induced recession than other sectors. Given that the work of maintaining and developing the vast majority of cryptocurrencies can continue remotely (and even without funding in many cases), nationwide lockdowns aren't going to have a major impact on crypto.
At the same time, investor confidence is plummeting throughout the globe. In early April, research firm Sentix recorded its biggest ever drop in Eurozone investor confidence. It sunk to a record low of -42.9, beating forecasts, with growing numbers of investors predicting a long recession.
"A fast, V-shaped recovery is unlikely," its report stated. "The recession will go much deeper and longer! There is an enormous need for revision in the already reduced forecasts of many institutes."
Likewise, State Street Corporation reported at the end of last month that its global investor confidence index fell by 4 points in March, from 78.5 to 74.5.
As such reports indicate, investors in legacy stock markets are becoming increasingly bearish. Given their growing sheepishness, the stock market is set to suffer, and while recent climbs suggest that the market is hopeful of a V-shaped recovery, it may lose its nerve if the coronavirus pandemic persists in the coming months.
Indeed, if the coronavirus recession is as bad as the 2008 financial crisis (and some are saying it will be worse), then the Dow Jones will lose around 50% of its value, hitting a bottom of around 13,600.
In this context, Bitcoin and other cryptocurrencies may be a safer bet than stocks. That said, don't expect them to be completely protected from a heavy downturn. As the March 12 crash indicated, crypto is affected by big macroeconomic events. Meanwhile, data from BitMex Research suggests that Bitcon is becoming increasingly correlated with the U.S. stock market: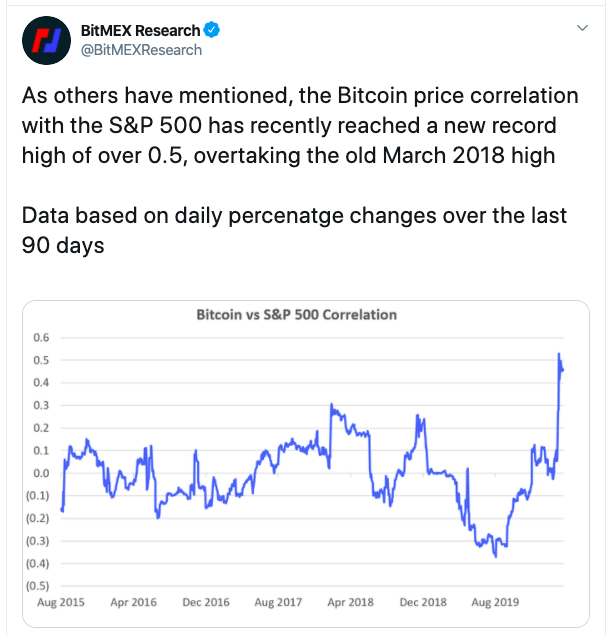 Source: Twitter
But while Bitcoin and crypto are becoming more correlated, they still aren't perfectly correlated. And as the new research from Messari reveals, they are outperforming the Dow Jones and S&P 500 at the moment.
So what this ultimately suggests is that, when the coronavirus pandemic has ended, crypto may find itself in a stronger position relative to the stock market than it was before.