High Fees and Long Wait Times
One of the reasons for the high network fees is the incentive for miners to include transactions that have paid a higher fee. The higher the fee, the more likely your transaction will be included in a block sooner. In other words, the rich are able to push transactions through Ethereum much faster than the average individual. This phenomenon occurs on the bitcoin network as well. The ability for the rich to get priority access over a network is supposedly unbiased is a real problem for mass adoption. If Ethereum's and Bitcoin's transaction fees stay above $1 per transaction, we're never going to see them adopted by the masses, simply because the masses are not rich.
DeFi for the Rich
Decentralized finances touts the utopian future of proving financial services to two groups of people. Those who cannot afford the financial services offered by centralized institutions, and those who are being offered corrupt financial services. The latter is still fixed by Ethereum in its current state, as smart contracts have made corruption much more difficult to pull off. However, if transaction fees are not kept below a dollar, then transaction fees are simply too high for individuals to build their wealth. Yes, Ethereum will still work in terms of providing decentralized financial services to the rich, as they can pay the $5 transaction fee. After all, they're making millions off of the appreciation of DeFi assets.
DeFi Rewards Cost More to Claim Than Their Worth
Some DeFi networks offer participation rewards such as the Kyber network. However, in order to claim the reward, you need to send an Ethereum transaction to the Kyber Smart Contract. One user has 100 KNC, and is entitled to a .001 ETH ($ .39 USD) reward. In order to claim the reward, they need to pay a .028 ETH (~ 10USD) transaction fee. In other words, the reward is completely infeasible. This user would need to be holding 100 times the amount of KNC in order to make the reward worth their while. 10000 KNC tokens currently go for about $18000 USD. This is simply out of reach for people looking to build wealth $10 per month at a time.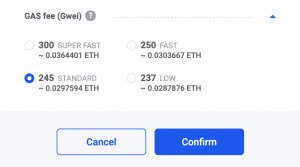 Poor User Experience Will Make Users Leave
The long term success of a cryptocurrency entirely depends on its ability to service individuals from all walks of life. Users are going to gravitate towards the network that fulfills the promise of crypto. Incorruptible, trustable, cheap, fast, unbiased service for all. Currently, it appears that networks like Bitcoin and Ethereum are better suited to cater to the individuals that have the ability to afford them. Networks that are building for the masses will be much better suited for adoption. Networks like Bitcoin Cash, and Cardano are the obvious cheaper counterparts to Bitcoin and Ethereum. Only time will tell whether or not Ethereum manages to fix their scaling problem. Until then, Ethereum fees make the network very expensive to use.