How Long Before Tether Is Bigger Than Bitcoin?
Tether is now the third biggest cryptocurrency by market capitalization. On May 25, it overtook Ripple's cryptocurrency, XRP, reaching a market cap of around $8.7 billion. It wasn't actually the first time it had unseated XRP as the third biggest crypto, yet it has already taken a bigger lead over Ripple's coin this time, suggesting that this particular switcheroo will be longer lasting.
There's a very good chance that Tether will even overtake Ethereum as the second biggest cryptocurrency, sooner or later. As for Bitcoin, this seems a little less likely. However, given that so many traders depend on Tether as an on/off-ramp and as a hedge, its market cap is likely to grow to the extent that more people trade crypto. So never say never, especially if Bitcoin somehow falls in value in the future.
That said, having Tether as the second or even biggest cryptocurrency may not be ideal for the stability of the crypto ecosystem. Because with Tether and its parent company iFinex embroiled in a number of legal battles, its disappearance or collapse could have disastrous consequences for crypto.
From Zero to Number… ?
Three years ago, Tether was the 28th largest cryptocurrency by market cap. Since then, its supply has ballooned from roughly $100 million to $8.8 billion.
On September 5, 2017, the day Tether announced the arrival of USDT as an ERC-20 token, it stood as the 19th biggest cryptocurrency. Its supply stood at 385.2 million USDT. However, by the time bitcoin reached its all-time high of nearly $20,000 on December 17, its supply was roughly 1.1 billion USDT.
Basically, being an ERC-20 token had enabled Tether to issue USDT more easily, its supply rising by 190.5% between September 5 and December 17, 2017. Even at the time, sceptics were arguing that Tether was printing excess USDT so that the stablecoin could be used to pump the price of bitcoin and other cryptocurrencies.
Regardless, new USDT is being issued on a regular basis, with Tether claiming that each USDT is backed 1:1 with US dollars and other currencies and assets. Since January of this year, the supply of USDT has more than doubled, from $4.1 billion to $8.8 billion.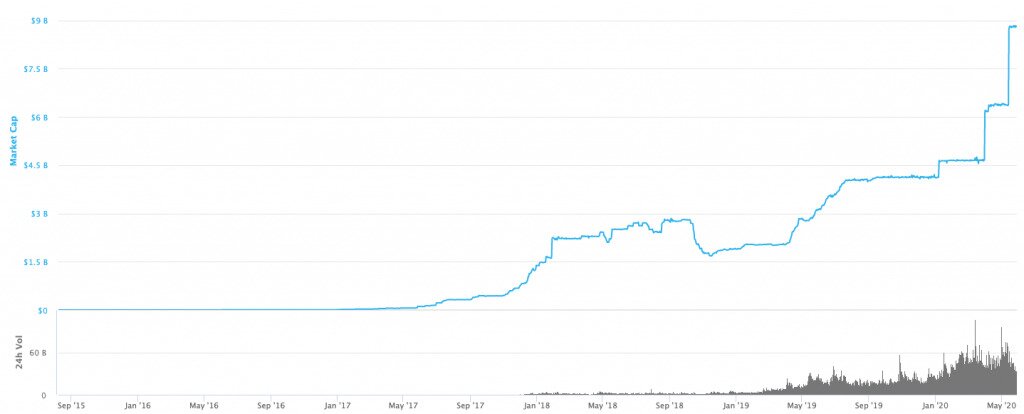 The following chart illustrates Tether issuance since September 2015. Source: CoinMarketCap
Assuming that this process continues, there's no reason to think that USDT won't overtake Ethereum as the second biggest cryptocurrency. Ethereum currently has a market cap of $23 billion. Assuming that Tether continues to issue USDT at a rate of around $5.7 billion per year (which is its issuance rate for the 12 months until now), it will pass $23 billion in roughly two and half years (i.e. in November 2022).
Of course, this forecast assumes that Ethereum won't appreciate in value during this period. But it also assumes that USDT issuance won't accelerate over time, which is what it has done this year.
Importance of Trading Volume

Another big part of the reason why we should expect USDT's market cap to continue growing is that it remains central to the cryptocurrency trading ecosystem. It has the biggest 24-hour trading volume of any cryptocurrency, standing at $34.6 billion in comparison to bitcoin's $32.2 billion.
Tether may not have the largest market cap, but it has the largest trading volume. Source: CoinMarketCap
Why? Well, because so many traders rely on USDT as an on/off-ramp for trading other cryptocurrencies. This is particularly the case in China, where people trade USDT for BTC, and not the Chinese yuan.
Source: Chainalysis
China is massively important within the crypto ecosystem, with the country accounting for $16 billion in USDT volume in 2018, and $10 billion by June 2019, according to analysis from Diar published in June 2019. In June 2019, it accounted for 60% of all USDT trades.
The reason why Chinese traders have taken to USDT so enthusiastically is that the country has banned trading cryptocurrency with the yuan. More recently, trade tensions and a weaker yuan have driven more Chinese people to trade cryptocurrencies. Given that US-China trade tensions are likely for the foreseeable future in the wake of the coronavirus pandemic, we may expect more Chinese individuals to turn to crypto. As a result, USDT will witness higher demand.
Bitcoin and Bust
Of course, it's not certain whether this will be enough to see USDT overtake bitcoin. Historically, rising USDT volumes seem to have signaled rising bitcoin prices. As such, the more USDT's market cap grows, the more bitcoin's will grow with it.
That said, in a volatile, unpredictable market, it can't be ruled out that bitcoin might suffer a price crash in relation to other cryptocurrencies. Depending on the performance of other cryptocurrencies and on external events, its market dominance may be reduced. In such a case, USDT may have a shot of overtaking its market cap.
However, it's not certain if having Tether as the second biggest or even biggest cryptocurrency would be good for crypto. Controversy has surrounded the stablecoin for several years, with a 2018 research paper claiming it was used to manipulate and pump the bitcoin market in 2017. More recently, Tether and its parent company iFinex are currently being investigated by the New York Attorney General, in relation to claims that Bitfinex helped itself to Tether's cash reserves after losing $900 million. Meanwhile, Tether is facing class action lawsuits over claims of market manipulation.
Given these cases, there's a chance that Tether might one day face difficulties in operating. Having it as the biggest cryptocurrency could therefore potentially damage the market cap and prices of other cryptocurrencies. In other words, it's probably for the best if it doesn't get too big.