Stimulus Checks Being Spent on Crypto
Several major cryptocurrency exchanges have reported an uptick in deposits equalling exactly $1200 USD. This is no coincidence, considering that COVID-19 stimulus deposits started last week (April 15th). The question on many people's minds is "How will you spend your stimulus?" For many cryptocurrency investors, it appears that they have their sights set on buying more cryptocurrency.
Coinbase Sees Uptick in $1200 Deposits
Brian Armstrong, CEO of Coinbase tweeted a chart that indicates that some amount of American citizens decided to spend their stimulus checks on cryptocurrency. The irony is that cryptocurrency is often referred to as the catalyst to the destruction of the traditional financial system. So as the US government is printing money to support the economy, some citizens are immediately disposing of their stimulus checks in favour of cryptocurrency. This eagerness to trade USD for cryptocurrency indicates the level of confidence that some people have in the long term viability of the American dollar.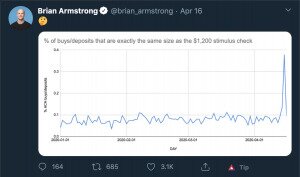 What This Means for Cryptocurrency
Several bitcoin analysts predicted that people who are either already invested, or are interested in investing in cryptocurrency will be using their checks to buy crypto. As the supply of US dollars inflates precipitously, the supply of scarce assets like bitcoin climbs at a regular pace. In fact, the inflation rate of bitcoin will become half of what it is now within the next 30 days. The event is dubbed "The Halvening", and occurs roughly once every 4 years. These facts present a very appealing buying opportunity for many investors.
With economic uncertainty looming over the American economy, many citizens are turning to alternative stores of value. Many people are already buying up scarce assets such as bitcoin in an attempt to transition to a monetary system governed not by people, but instead by mathematics and cryptography. The idea is that people have a much easier time trusting math and computers than people and government with the value of their money.
Paper Checks Yet to Reach
Only Americans who've registered for direct deposit with the IRS have received their stimulus checks from the government. The paper checks are set to go out on April 24th, starting with Americans who earn $10k or less. Those who earn $100k or less need to wait until June 26th until their checks will be mailed. Once the paper checks are cashed, major cryptocurrency exchanges expect there to be a higher influx of deposits, and subsequent purchases of cryptocurrency.
Other Countries Stimulus
Most other countries are providing their citizens with a stimulus package. The packages range from a monthly deposit of cash, to covering a portion of workers salaries. These packages take time to implement, and distribute. We've already seen an uptick in cash deposits from US citizens to cryptocurrency exchanges. It is only reasonable to expect $2000 deposits from Canadians, and $1000 deposits from Australians.