>

Buying Cryptocurrency in Indonesia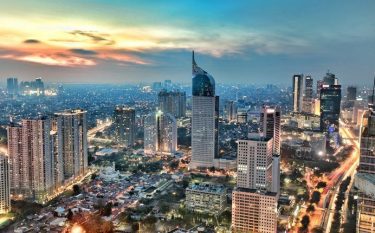 How to Buy Bitcoin in Indonesia
Best Cryptocurrency Exchanges in Indonesia
Trustworthy exchange
Supports many different funding options
Accepts users from across the globe
High trading volume
Funding Methods
Wire Transfer, ACH
Is Cryptocurrency Legal in Indonesia?
There are a few countries in the world where the legality of Bitcoin is pretty unclear to people outside of the country. Back in late 2013, the Bitcoin market was controlled by various statements coming out of China regarding the legality of the cryptocurrency in the country. Indonesia is another location where there is some ambiguity as to whether or not this technology will be allowed to thrive over the long term.
There have been a few different situations over the years in which authorities in Indonesia have made negative statements regarding the potential use of Bitcoin and other cryptocurrencies for fraudulent and speculative purposes. Back in 2018, Indonesia's central bank was even considering new regulations that would implement an effective ban on the use of Bitcoin in everyday transactions. The bank has also referred to cryptocurrency-based payments as "not legitimate."
There have also been reports of widespread use of Bitcoin and other cryptocurrencies in Bali, which is obviously a key hub for ex-patriots and travellers alike. With all this said, it's still legal to use Bitcoin in Indonesia today.
What is the Best Cryptocurrency Exchange in Indonesia?
The best Bitcoin exchange for the Indonesian market may be Indodax, mainly due to its focus on this particular market. While some of the other global, highly-liquid exchanges, such as Kraken, are also available in this country, the reality is Indodax's focus on the Indonesian market allows them to cater to the specific needs of people who are dealing with the realities of the financial system in this country.
If you aren't new to the cryptocurrency space, you may remember Indodax by its original name, Bitcoin.co.id. According to the platform's homepage, the exchange currently has over 2 million users.
In addition to the online platform, Indodax also has a physical location where users are able to purchase Bitcoin and other cryptocurrencies directly for cash. It should be noted that this exchange collects data on their users in order to comply with the local regulations, so it's not a place where you will be able to purchase large amounts of Bitcoin in an anonymous manner. That said, the fees are highly competitive and it's a great option for established cryptocurrency traders.
Are Bitcoin ATMs Available in Indonesia?
According to Coin ATM Radar, there are no Bitcoin ATMs located in Indonesia. However, it's important to remember that these sorts of websites that track the locations of Bitcoin ATMs are not perfect. Sometimes Bitcoin ATMs are listed on the site when they no longer exist and, other times, there are new Bitcoin ATMs missing from the website. In the past, there have been reports of Bitcoin ATMs popping up in Bali, which would make sense due to the fact that this is a place where many tourists like to visit and would need to convert between cryptocurrencies.
If you're unable to find a Bitcoin ATM in Bali, then you may want to look into some of the peer-to-peer trading marketplaces, such as Mycelium Local Trader, available in the country. Of course, another way to trade cash for Bitcoin more easily is to get involved with the local Bitcoin meetups. Like many other locations, there are private communities on Telegram and elsewhere for those who are interested in Bitcoin and who live in Indonesia. By getting involved in the community, it will become much easier to find someone you can trade with on a peer-to-peer basis.
Can I Buy Bitcoin with a Credit Card in Indonesia?
The most reliable option for purchasing Bitcoin and other cryptocurrencies with a credit or debit card in Indonesia is Coinmama. This is a platform that operates globally, and it has the highest limits available in terms of the amount of cryptocurrency that users can purchase with a credit card. This is a trusted and secure exchange provider; however, that reliability comes at a cost. Trades made via a debit card on this platform will come with fees of at least 4.9%, but there aren't many options when it comes to buying Bitcoin with a credit card in Indonesia.
How Do I Buy Bitcoin in Bali?
How you purchase Bitcoin in Bali and other parts of Indonesia really depends on what sorts of payment mechanisms you have at your disposal. Obviously, if you're a traveler who is only in Bali on a temporary basis, then you'll be able to use your bank account from your home country to purchase Bitcoin via more traditional means, such as Coinbase.
If you're unable to use an account from your home country, then you'll want to look into some of the possible peer-to-peer exchange options. Platforms such as LocalBitcoins and Paxful make it easy for you to connect with sellers of Bitcoin in the local area. It may be more difficult to purchase less-noteworthy cryptocurrencies via P2P mechanisms due to a lack of liquidity and general interest.
Although the legal picture for Bitcoin in Indonesia is looking a bit bleak at this time, the reality is there is still a strong community of people working in the cryptocurrency industry or just generally enthusiastic about the technology living in Bali.