>

Best Crypto Exchanges to Buy Bitcoin in Norway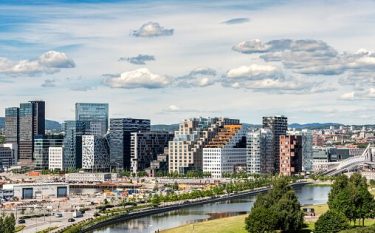 Best Crypto Exchanges to Buy Bitcoin in Norway
Norway's Best Bitcoin Exchanges
User-friendly
Great customer service
Low services fees
Diverse and consistently updated choice of coins
Funding Methods
Debit & Credit Bank, PayPal, ACH, Bank Transfer
Trustworthy exchange
Supports many different funding options
Accepts users from across the globe
High trading volume
Funding Methods
Wire Transfer, ACH
Easy sign-up process
Lowest transaction fees of any major exchange
175+ different digital assets available
Free deposits
Funding Methods
Debit & Credit Card, Wire Transfer, ACH
What's the History of Cryptocurrency in Norway?
In the past, much of the cryptocurrency industry's involvement in the Norwegian economy has been due to the interest in mining bitcoin and other cryptocurrencies within the Nordic nation. As far back as 2018, the Norwegian government even had an official partnership with Bitfury, which is one of the longest-lasting bitcoin mining and blockchain technology companies in the world. At the time, Bitfury invested $35 million in various bitcoin mining facilities and other related operations in Norway. Countries that are located in colder climates tend to be attractive to bitcoin miners due to the fact that cold climates make it much easier to provide cool temperatures to overheating bitcoin mining equipment in a natural, free manner. Bitcoin miners in Norway were also receiving subsidies related to electricity costs from the local government at one point, but that incentive no longer exists in the country.
Perhaps the most interesting aspect of bitcoin in Norway is that all of the citizens of Norway own some bitcoin in a roundabout way due to the Norwegian government's investment in MicroStrategy. This publicly-traded company infamously converted their balance sheet from U.S. dollars to bitcoin in 2020, which means anyone who owns shares in the company are exposed to the fluctuations in the bitcoin price.
All in all, Norway has been an extremely friendly environment for Bitcoin and cryptocurrency enthusiasts.
Is it Legal to Buy Bitcoin in Norway?
There are currently no cryptocurrency-specific regulations in Norway; however, that does not mean the bitcoin industry is a completely unregulated environment in this country. Instead, it makes sense to assume that laws and regulations that apply to other areas of finance will also apply to bitcoin and other crypto assets.
For example, a cryptocurrency exchange that is operating in Norway without proper guards against money laundering and other aspects of illicit commerce would be shut down rather quickly. These sorts of financial institutions cannot be used in a private manner, and the decentralized nature of the blockchain will not be able to help someone who wants to operate anonymously when they are placing their coins into the hands of a third-party custodian.
There is also the reality of cryptocurrency taxation to think about in Norway. While there aren't any regulations on the books in terms of the taxation of cryptocurrencies like bitcoin, the reality is that the Norwegian people are still expected to pay capital gains taxes in situations where profits are made from the buying and selling these digital assets. In Norway, it is expected that bitcoin users will pay a 25% tax on capital gains that are made from moving between the world of cryptocurrencies and the traditional world of fiat currency. It should also be noted that using bitcoin as a currency will not make these sorts of taxes go away. If you buy some bitcoin, watch the price go up, and then try to use that bitcoin to make any sort of purchase online or at a physical store, then you will be expected to pay taxes on the value accrual that took place with your bitcoin holdings before you used them to buy any good or service. While the tax man may look the other way when it comes to small, everyday purchases, it's likely that purchasing a car or another high-value item will raise a red flag in the eyes of the law.
On the bright side, cryptocurrency purchases are exempt from the normal value-added tax that is added to most purchases made within Norway.
How to Buy Crypto in Norway
If you're going to buy crypto in Norway, then using one of the globally-connected cryptocurrency exchanges is usually going to be your best option. Unless you are worried about your privacy or you need access to bitcoin in a hurry, these sorts of exchanges will be the best bet because they provide access to global levels of liquidity at a low cost per trade. Additionally, the convenience offered by the ability to connect your bank account with a cryptocurrency exchange is difficult to match.
That said, there are a variety of alternative methods for buying bitcoin in Norway too. Peer-to-peer exchanges like Paxful are a popular option for those who wish to avoid the centralization and lack of anonymity associated with regulated exchange platforms.
There is also one Bitcoin ATM available in the country in the city of Kristiansand. The Bitcoin ATM is a machine by General Bytes, and it is located in a vape shop. The ATM offers bitcoin, Ether, and Litecoin trading. Additionally, up to 11,000 NOK worth of cryptocurrency can be bought via this Bitcoin ATM without handing over any personally-identifying information.
Where Should I Buy Bitcoin in Norway?
If you are going to buy bitcoin in Norway, then your best option is probably going to be Kraken. This is because Kraken is the most liquid exchange in the world for the BTC/EUR trading pair. While the BTC/USD trading pair offers much more liquidity than BTC/EUR, it's more likely that someone located in Norway is interested in trading against the euro rather than the U.S. dollar. Kraken also comes with extremely competitive fees, and their support for altcoins and niche token offerings is rather extensive. That said, a user may want to switch to another crypto exchange, such as Binance, if they're interested in trading some of the most niche crypto assets available on the market.
How Can I Buy Bitcoin Fast in Norway?
Getting bitcoin fast in Norway can be a difficult task at times because there is only one Bitcoin ATM in the entire country. In most cases, gaining access to a Bitcoin ATMs is going to be the fastest way to convert fiat currency into cryptocurrency because cash can be used to make the purchase. Another reason people like to make cryptocurrency trades via Bitcoin ATMs is the relatively-high degree of anonymity that is offered by this trading method. That said, buying bitcoin via a Bitcoin ATM in Norway will also come with much higher fees than what is available via the online crypto exchanges.
If you need crypto in a hurry and you are not concerned about privacy or being able to purchase large amounts of crypto, then you should look into one of the many options for purchasing bitcoin via a credit card or debit card. Many of the major platforms, such as Coinbase and Binance, support this option, and there usually aren't much requirements for this payment method in situations where you are just trying to buy a small amount of crypto. Obviously, this is not a very private way to interact with the cryptocurrency ecosystem because your real name and other personal information will be attached to the card that you use to make the purchase. That said, this can be a useful option in a situation where you don't already have a cryptocurrency exchange account created with a bank account attached to it.