>

Celsius Network Review 2021
Easy to use app, instant loans
Some of the highest interest rates in crypto lending
Earn free Bitcoin with sign-up promos
Users can lend and borrow 38+ different cryptos including BTC, USDC, BNB and CEL
Products
Earn, Lend, CelPay, CelToken
Minimum Loan Amount
$1,000
Max Interest Available on Earn
17.87% (rates subject to change)
Lowest Rate for a Crypto-Backed Loan
1%
General Overview
No minimum deposit required.

Celsius doesn't require users to lock their crypto for a certain period of time.

Size: over $9 billion in user assets currently held, making it one of the largest crypto lending markets

Interest on crypto is paid out weekly

Transparency: Weekly Q&As with CEO Alex Mashinsky
Limit on withdrawals larger than $20k

Higher interest rates available only when paid out in native CEL token

Account not accessible on web application

Users don't have control over their private keys
Celsius Network At A Glance
Other Tools
CelPay – send crypto using a link
Max interest available:
17.78% (rates are annualized and subject to change)
Headquarters:
London, England
Proprietary credit card:
No
Minimum loan amount:
$500
Maximum loan amount
$999,999
Overview
Originating in 2017 on the back of a napkin, Celsius Network has grown to be one of the largest crypto lending platforms, with over 550k active user accounts and $9 billion in staked assets. Celsius Network aims to "put the power back in the hands of the people" and create a new world of banking without banks. Celsius Network is a mobile app that handles customer transactions. This may be a bit confusing, since Celsius isn't a blockchain, it is moreso a blockchain-focused bank. Its major difference (other than being crypto of course) is that Celsius pays its depositors (users) 80% of the interest earned, unlike traditional banks' 20%.
Celsius operates in three ways:
lending USD to users who pledge crypto as collateral
allowing users to lend their crypto with Celsius and earn interest
lending crypto to institutions (banks) who want less risky access to the crypto markets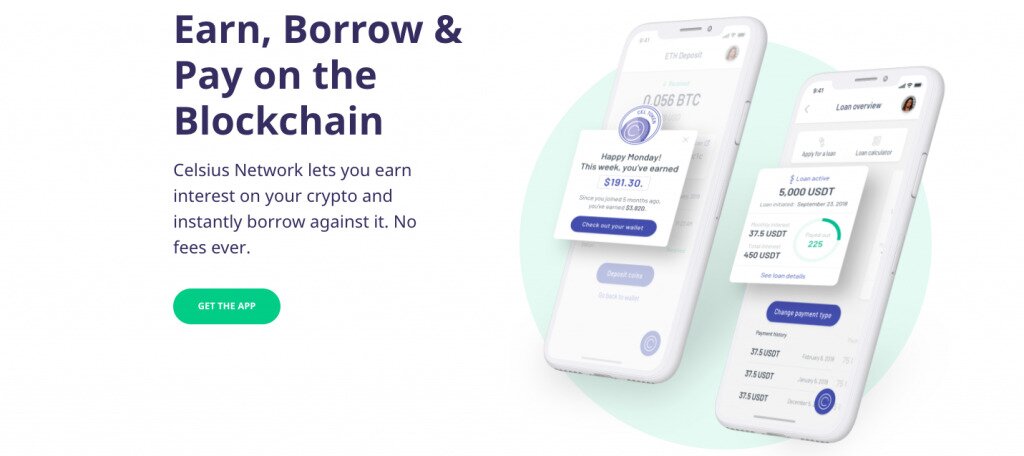 Here's how it works. If you want to earn interest on your crypto, you can stake your crypto with Celsius, and then they lend that crypto to exchanges, institutional partners, and hedge funds in exchange for dollars. These dollars are then loaned to other users who deposit crypto as collateral and request a loan, then paying interest on that loan until it is paid back when the term is up. This interest then goes to Celsius, who gives 80% of it back to the original users staking their crypto in the app. It's really a big happy crypto lending circle.
The founder, Alex Mashinsky, explains "We pay 7% to 10% interest. You can take your dollars or euros, you convert them into stablecoins like Paxos or USDC, deposit the coins in the Celsius app, I lend them out. I make 9% to 12%, I give you 80% of what I make back,"
To use Celsius Crypto, users need to download the Celsius App, which is compatible with all android and iOS devices and can be found on the App Store and Google Play. Users are required to use the app to access all that Celsius has to offer, and it conveniently doubles as a wallet for the dozen coins that you are able to stake and borrowed against. In order for Celsius to use your coins, they are stored with the custodian BitGo, who provides insurance on deposits up to $100m, and users have access to their funds at all times through the Celsius App.
In order to access the in app features of earning interest by staking funds, borrowing fiat, and purchasing crypto with a credit card, users need to go through a ~5 minute verification process for KYC compliance.
Earn Interest
Once users have their Celsius app set-up and verified, they can send a number of coins, such as BTC, ETH, XRP, BCH, LTC, as well as stablecoins such as USDT, TrueHKD, and XAUT to their wallet app. Users can stake any one of these cryptocurrencies and earn up to 10% a year for the respective crypto. On its website Celsius compares its rates to Nexo and BlockFi, and alleges that for certain amounts, their payouts are the highest. If users choose to receive their interest payout in CEL they will receive a higher payout rate (up to 30% higher).
Advantages of using Celsius Network for earning interest are: they don't charge fees, there is no lockup period, no penalty for withdrawing your funds, and no minimum deposit amount.
Borrow Cash
One of the main advantages of using Celsius Network's lending platform is the ability to borrow USD using crypto as collateral, giving users access to spending money without needing to sell their crypto assets.
Applying for a loan is as simple as going in the app, selecting the crypto to be used as collateral and for interest payments, how much collateral to use, the term, the USD amount, then done! It can be as fast as 60 seconds with no credit checks, no transaction or termination fees, and instant approval. Users can get loans at amounts equal to 25%, 33%, or 50% of the value of their collateral (to protect lenders of course), with 25% being the lowest interest rate, currently 1% annually!
Celsius Lending (as with all lending) is kind of a big deal because taking out a crypto loan isn't a tax event in many countries. That means you can theoretically take out a loan on your crypto and then pay it back and avoid the usual taxes for selling crypto outright.
CelPay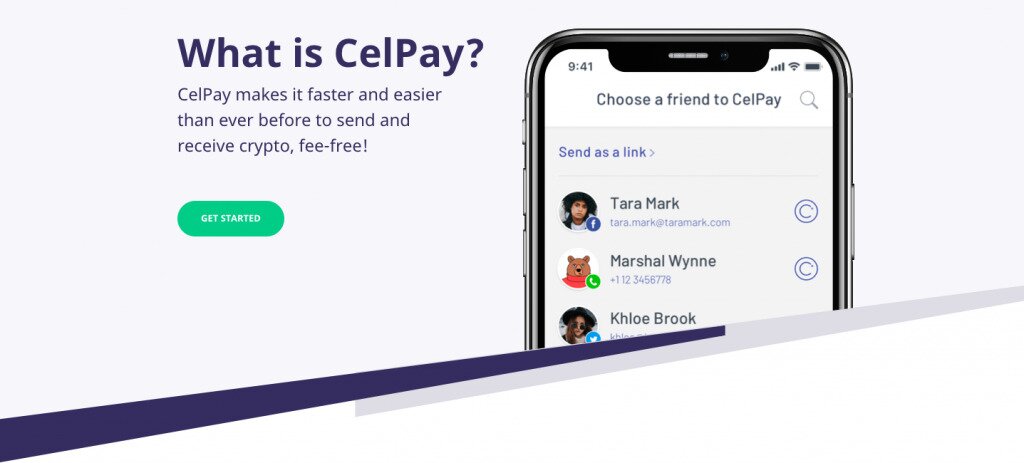 Many crypto lending platforms have credit cards or similar perks, what does Celsius have? CelPay, a crypto payment app that allows you to send crypto even to people who don't have a wallet. It does this by generating a link, which can be shared, texted, or copied  that gives the recipient their own CelPay wallet holding the coins you sent them. All transfers are fee-free, and users can even earn up to 2% cash back when sending CEL! CelPay is compatible with all the cryptocurrencies on the platform.
CEL Token
Celsius Network has an ERC-20 utility token named Celsius (CEL), able to be purchased on exchanges like Liquid and IDEX. It was launched in June of 2018 raising $50m, and is currently valued at slightly less than that. Total supply is 650m, with 50% of coins issued. 25% went to the team and the rest is held in a locked smart contract that will only release these coins to be used for new loans if CEL is valued at greater than $1.50 for longer than 10 days, and then greater than $3 for 30 days.
CEL is primarily used to stake in the app and get weekly compounding interest (the highest interest scheme in the app), earn up to 30% discounts on loan interest payments, and earn up to 30% more on staked assets, when receiving in CEL. In order to earn the highest rates users need to hold 30% or more of their crypto in the app as CEL, incentivizing users to hold the token.
Funding Methods
Funding Method
Deposit
Withdrawal
Speed
Bank Account (ACH)
No
No
n/a
Wire Transfer
Yes
Yes
2-5 business days
Wallet to Wallet
Yes
Yes
Nearly instant
Frequently Asked Questions
---
Yes, users can earn interest on up to 35+ different cryptocurrencies, such as BTC, LTC, ETH, USDT, and Celsius' on token CEL.
---
Celsius makes money by acting as the intermediary between lenders and borrowers. The borrowers pay interest to Celsius, who then pays 80% of this to lenders (stakers).
---
No, Celsius does not offer a credit card. However, they have an app called CelPay where you can send crypto to others using a link or as a text message, inviting them to download the app and receive their funds. Users can also transfer directly to each other.
---
Lending on Celsius is a good way for users to make use of their crypto holdings, earning interest instead of collecting dust.
---
If measured using interest rates, yes, since their interest rates on deposits are up to 10x greater than banks.
---
CEL Token is a utility token that encourages users to HODL it in the app by giving higher interest rates to stakers, lower interest rates to borrowers, as well as compounding interest rates when staking CEL.
---
Yes. You can stake and earn XAUT, which is Tether Gold, an asset backed stablecoin tracking the price of Gold.
---
Currently you can earn up to 11.90% annually on multiple stablecoins such as all the True currencies, USDT, PAX and many more.